Sliding door handles for stylish functionality
Sliding doors are an aesthetic and space-saving solution for living rooms and offices. Sliding door handles play a crucial Roll in this, not only for functionality, but also for design. At Griffwerk, you will find an exclusive selection of Sliding door handles, including handle shells for Sliding doors and models in Black and Stainless steel.
Our product selection:
Handles
Handle bars
Bar handles
Bar handle with handle profile
Can I replace the Sliding door handles myself?
Replacing Sliding door handles is often a simple task that can be done yourself. If you are handy and have the right tools, you can replace the handles yourself. At Griffwerk, the handle for the Sliding door is attached to the glass panel using a Glue-on system. The product comes with a template that simplifies the process of sticking. However, the handle can also be positioned individually.
Sliding door handles for barrier-free living
Barrier-free living means that all residents can move freely and carefree within their own four walls. Sliding doors are an excellent solution for ensuring barrier-free access between rooms. A key advantage of Sliding doors is the lack of a swing area, which often causes restrictions in conventional doors. At Griffwerk, we offer a Width selection of Sliding door handles that facilitate barrier-free handling of your doors and give you unrestricted access.
Sliding door handles as a design element
Sliding doors are not only practical, but also a stylish design element for your rooms. At Griffwerk, we understand the importance of Sliding door handles as an aesthetic detail that can significantly influence the overall look of your interior. Our diverse selection of Sliding door handles allows you to personalize your rooms and add a touch of personality.
Discover our creative possibilities:
Variety of Designs: Our Sliding door handles are available in a variety of designs, from modern clear Lines to classic Forms. Choose the handle that best suits your interior design style.
Materials to suit any taste: our Sliding door handles are available in a variety of materials such as Stainless steel or Black. Each material gives the doors a unique touch and makes them real eye-catchers.
Add contrasts and accents: Use the Sliding door handles from Griffwerk to create contrasts or place subtle accents. With the right choice of handles, you can significantly influence the overall look of your rooms.
Turn your rooms into individual oases of well-being with our Sliding door handles and let your interior shine. Discover our range and let your creativity run wild!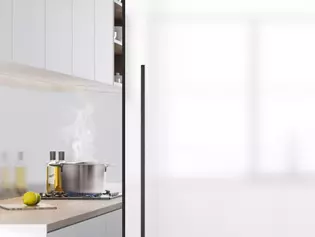 Sliding door handle care and maintenance
Sliding door handles from Griffwerk are not only aesthetically pleasing, but also robust and durable. To keep your handles in top shape for years to come, proper care and maintenance is essential. With a few simple steps, you can maximize the life of your Sliding door handles and keep them functioning properly.
Clean your Sliding door handles regularly with a soft cloth and mild detergent to remove dirt and dust. Avoid aggressive cleaners or abrasive sponges to prevent scratches.
Discover your new Sliding door handles at Griffwerk!
Choose the right Sliding door handles for your home or office from our exclusive product range. Whether you prefer an elegant shell handle, appreciate the timeless elegance of Black or need the robustness of Stainless steel - Griffwerk offers the right solution for your needs. Give your Sliding doors the finishing touch and benefit from the highest quality and first-class design.