smart2lock: Just click out for a moment
The click to more freedom
Space for myself. Time for myself. My time. Me-time. To ensure a balance between openness and privacy, it is important to set boundaries - and redefine precious, private space. Here I find moments of relaxation and discover new possibilities for self-development.
Whether relaxing in the bathroom, refreshing power napping in the bedroom, concentrated work in the home office or undisturbed chilling in the teenager's room: smart2lock by GRIFFWERK gives you more me-time. The locking mechanism integrated in the handle ensures closed rooms with a click, and thus more concentration, more privacy, more free space. On the outside, a discreet red indicator signals "do not disturb" - the most beautiful break sign in the world.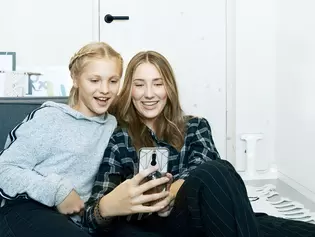 ---
The most beautiful break sign in the world
smart2lock stands for innovative, intelligent locking technology. All door fittings can be locked and opened with just one hand. A short click activates the mechanism integrated in the handle. A discreet red indicator signals "do not disturb" to the outside - the most beautiful pause sign in the world.
Excellent locking technology
The smart2lock locking mechanism, which was developed by Griffwerk and can be integrated into the handle, was chosen as the "best product of 2020" by a jury of recognised architects as part of the "Houses of the Year - the best single-family homes" competition.
Emergency release
The smart2lock set can easily be emergency unlocked using a pointed object (e.g. biros).
---
New door aesthetics - Simply more beautiful
The technology is as innovative as the appearance is extraordinary: with smart2lock, GRIFFWERK is establishing a new door aesthetic. Since the locking mechanism is integrated in the handle, a key rosette is no longer required. This reduces the number of visual elements and nothing disturbs the minimalist overall appearance.
---
smart2lock: Great variety - simply everywhere
Suitable for every door and every architecture: With smart2lock technology, there are numerous different GRIFFWERK products. In addition, every door handle is available in clip technology, screw technology or in the PIATTA S variant. Door handles with smart2lock by GRIFFWERK fit conventional standard door locks. Due to their minimalist look, they are not only suitable for the WC or bathroom, but also for the guest room, the home gym, a youth room or the parents' suite.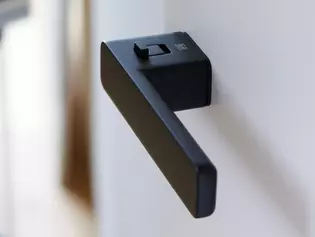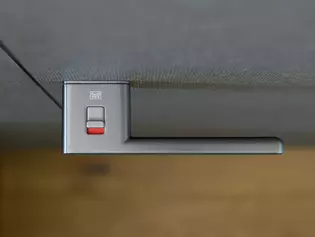 Our products with smart2lock
Experience smart2lock live now
Test the innovative locking technology smart2lock by GRIFFWERK on site at your trading partner.
Find your smart2lock trading partner in your area now: