TITANO_882 AVUS
security combi set
TITANO_882 AVUS
security combi set
lock type:
cylinder cover
security combi set TITANO_882 ES1
72mm cylinder cover door 38-50mm R
AVUS graphite black
Security combination unit TITANO SB_882 with door handle AVUS
Certified Protection with the legend
GRIFFWERK stainless steel combo protection unit, suitable for use in private and object areas, tested and certified pursuant to DIN EN 1906 Appendix A and DIN 18257
use category burglary safety class S1 (ES0) or S2 (ES1)
Outer plate with stainless steel cover
Cylinder overlap of 10-15 mm possible (option ZA)
Euro profile optionally with core extraction protection
Fitting with M5-screws
Security fitting without visible screws/assembly or disassembly
Combination with almost all handles of the GRIFFWERK-collection
Plain bearing for permanent, smooth and silent function without maintenance effort
Longlived by high corrosion-resistance of the unit
Door handle AVUS SR4 borrowed its name from the former Berlin Motor Show on which many pioneering achievements were made. The characteristic of this track were two major turns. For the handle shape, we reduced this form again. Two semicircles, now catch the circumferential outline of the rectilinear front surface.
Graphite black
Black is finding its way into architecture, whether on large window fronts, as entrance doors or in interior details. Griffwerk offers the right selection of black fittings. A special feature is the black shade developed by GRIFFWERK, inspired by the black of graphite. The material look is reminiscent of black graphite powder, the feel is surprisingly soft. Graphite black impresses with its unusual, velvety matt finish and soft surface. Graphite black accents can be repeated in the room. They have a very noble effect and do not stand for elegant refinement and luxury for nothing. Griffwerk offers graphite black design in various product categories, allowing a holistic design of any interior. Graphite black is close to the RAL colour RAL 9011 (graphite black). Whether door handle, window handle, handle shell pair or even just handle bar, what is important is a uniform interplay of different colour elements that emerges from a conscious colour concept.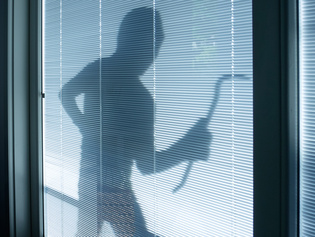 Secure the front door with protective fittings!
Every four minutes there is a burglary in Germany. The biggest weak point in flats: the flat entrance door.
Although around 75% of all burglaries target apartment buildings, too little attention has so far been paid to securing the flat entrance door with front door fittings. Burglars are under great time pressure. Attempts to resist for as little as five minutes fail. Moreover, 80 percent of the perpetrators are only occasional thieves. They do not take a high risk of detection and choose properties with unsecured weak points. Contrary to popular belief, 80 percent of burglaries take place during the day when the residents are out of the house - preferably between 10 am and 1 pm. Apartment buildings are particularly affected.
Prising open the shield of a front door security fitting or pulling protruding cylinders can be effectively warded off with a security fitting from Griffwerk.
Download information leaflet security fittings (only in german)
Effective burglary protection for your home!
The number of domestic burglaries continues to rise in Germany. However, most attempts could be thwarted by the right burglary protection. Too little attention is paid to the protection of front doors in particular.
You should pay attention to this with your flat entrance door:
Invisible screwing prevents screwing on/off from the outside.
Special hardened steel plate offers resistance to drilling, knocking off and bending.
3. Hardened steel cylinder cover prevents the profile cylinder from being pulled out.
Resistance classes of protective fittings
For classification purposes, protective fittings are classified into resistance classes. They indicate how strong the burglary protection is. Depending on your individual protection needs, choose fittings from four different protection classes (ES0-ES3).
GRIFFWERK equipped the revised range of protective hardware with flanking sales support for specialist trade and crafts. GRIFFWERK has solutions at hand for sales exhibitions and mobile consulting as well.
Resistance class ES0
Components in the resistance class have basic protection against attempts to break in with physical force (mainly vandalism) such as kicking, counter-jumping, shoulder throwing, pushing up and tearing out.
✓ Suitable for secondary doors such as garage doors
Resistance class ES1
The casual burglar additionally tries to break open the locked and bolted component with simple tools such as screwdrivers, pliers and wedges.
✓ Suitable for flat entrance doors, front doors
---