Knob handle rose set
Discover the perfect knob handle rose set for your entrance
A knob handle rose set is the door fitting that gives your entrance the finishing touch. Whether for apartment entrance doors or front doors - at Griffwerk you will find a large selection of knob handle rose sets that impress with their design, quality and functionality.
Why choose a knob handle rose set from Griffwerk?
High quality materials and workmanship
We place great emphasis on quality and use high-quality materials such as stainless steel, brass and other durable materials for our knob handle rose set. Each knob handle rose set is carefully crafted to guarantee you long life and reliable functionality.
Width choice of designs
We know that every entrance is individual. That's why we offer a diverse selection of designs that appeal to different styles and tastes. From classic and timeless to modern and minimalist, you'll find the right knob handle rose set to enhance the character of your entrance.
Convenient operation
The door knob on the outside of the door prevents the door from being opened without a key, while the door handle on the inside ensures easy handling. For perfect operation of the handle on the inside, we at Griffwerk have particularly ergonomically pleasant handles in our range.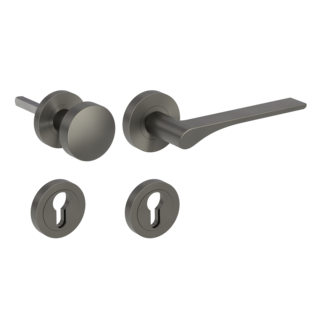 Our range of knob handle rose sets
Discover our extensive collection of knob handle rose sets, especially for residential entry doors and front doors. We carry a variety of models, surfaces and finishes to meet your individual needs. From elegant stainless steel knob handle rose sets with clear Lines to nostalgic brass knob handle rose sets, you'll find the perfect choice for your entryway.
Individual living concepts often require coordinated design down to the smallest detail. With the knob handle rose sets from Griffwerk, you can elegantly continue the style of your interior design. At Griffwerk, you have the option of choosing different door handle styles for the inside of your door that perfectly match the rest of your home. For example, opt for door handles in a modern Minimalism style to create a unified ambiance, or choose playful shapes and embellishments to give your rooms a personal touch. Griffwerk's knob handle rose sets give you the flexibility to customize the door handle on the inside of your door to suit your individual taste.