Trade Fair Bau 2019
---
Smart Technology
Complex modular product systems are a bit old hat. Just look at the trend in computers. A few years ago, you needed a tower, as well as a monitor, extra speakers and a keyboard, a mouse, an external hard disk and maybe even a touchpad. Today all you need is your iPad! A single product that combines a range of functions. Previously your needs could only be met by combining a number of individual components. This new design approach is referred to as "all-in-one", and its impact on product design has been extremely successful in a number of industries. Even printers are multifunction devices nowadays. They can print, fax, scan and copy! Professor Thomas Gerlach brought this design concept to GRIFFWERK back in 2008, using it to develop the FRAME fittings range. With his roseless concept, he created a completely new aesthetic. Our team in Blaustein has taken the concept a stage further for 2019. The deliberately uncompromising straight lines of the FRAME system have been softened. In addition, we wanted to take the idea of one-hand operation developed for the PURISTO S lock mechanism and also apply it to door handles. After all, this function is in line with our belief that form follows ease of use, a principle that we are sure will continue to change fittings design.
smart2lock by Griffwerk
smart2lock, stands for intelligent locking technology and works maintenance-free without magnets or electronics. We chose the position at the handle neck as the locking latch is easiest to reach from there. A red marking tells the user if the door is locked. Moreover, when locked, the handle can no longer be pressed down both from the outside or inside. We haven't forgotten an emergency unlocking mechanism either.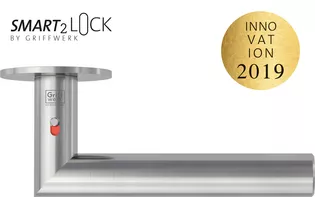 Piatta S | Purist Aesthetics
The demand for reduction and concentration on the essentials is more topical than ever. Superfluous details are undesirable. Flush join has become a must in the minimalist interior. In terms of door fittings, this can be very complicated to implement. Flat rosettes are the ideal solution because they require no special drilling.
For 2019 we have revised the technique of the flat rosettes PIATTA. The new version PIATTA S has now been equipped with a retaining spring and is easy to install with SMART KLIPP. AVUS is also available with flat rosette PIATTA S.
Puristo S with smart2lock
When designing this lock case our highest criterion was comfort. Thanks to smart2lock, Puristo S can be operated single-handed. The spring tension of the door handle can be adjusted precisely and even the handle position can be set to the millimetre. Puristo S is also smaller than conventional lock cases although it requires no special holes and is compatible with the handles in our product range. The new lock case is stainless steel, matt, graphite black and now also available in cashmere grey.
---
Nesting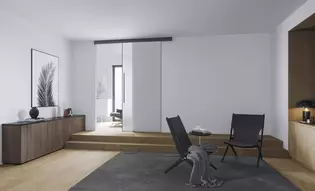 Find your safe haven where you can hunker down in homely comfort. Unfinished timber and warm tones are back in fashion, filling the vast white spaces of recent years. Words like hygge, coziness and lagom fill the pages of trendy magazines, preaching a new, relaxed attitude to life and living. The inspiration comes from Northern Europe. After all, Scandinavians are said to be the continent's happiest inhabitants! The rapid rise of smart technologies has also awakened a need to create a homely feel. Authentic materials make for a more sensuous home. There is definite return to cultural history and nature. Colourfulness has (still) not yet won the day.
NEW: Avus
AVUS borrowed its name from the former Berlin Motor Show on which many pioneering achievements were made. The characteristic of this track were two major turns. For the handle shape, we reduced this form again. Two semicircles, now catch the circumferential outline of the rectilinear front surface.
NEW: Remote
REMOTE attaches great importance to pleasant touch. A wide, upper support surface provides a pleasant grip. At the same time we wanted a shape that needs little "volume" and therefore we strongly flattened the gripping area. The shape transition to the neck of the handle was contoured with dynamic lines which lead the shape as gently broken edges.
Cashmere grey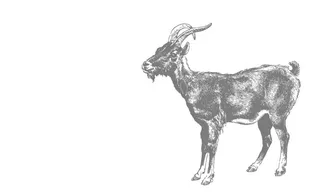 The so-called cashmere goats originate from the former princely state of Kashmir (between India, Pakistan and China). Their wool is considerably softer than the finest sheep's wool and is actually one of the finest and most expensive natural fibres in existence. The velvety touch results from the particularly smooth surface of the fibres. When something feels as good as this, we would just love to transfer it to door handles. With our cashmere grey "premium surface" we managed just that: Door handles have never been smoother.
---
10 Years Frame
FRAME, developed by Prof. Thomas Gerlach in 2007, set newstandards. The patented fastening technology made it possible tocompletely dispense with rosettes and thus created a new handleaesthetic. This fitting also caused a sensation with the idea ofinterchangeable inlays. FRAME thus became a pioneer of the megatrend"customization" by giving individual solutions space andinvolving the user in the design process in the sense of demographic sign process.
---
Loft Character
Charming living
As early as the 1940s, empty factory buildings in New York were being repurposed as apartments. What was once a method of cheaply converting residential space has today become a mark of quality. Real factories and old production halls are rare. The charm of loft-living is undeniable. And now the loft look is not just restricted people with access to large industrial spaces. A new eclecticism is spreading. Strict adherence to a distinct style is no longer mandatory. Instead, mixtures of different styles and directions allow you to show off your own individual flair. Classical forms can be incorporated into contemporary solutions. Thus the Planeo Air sliding door fitting echoes the typical iron frame of the loft style, but in a much more minimalistic, quieter voice. There is nothing rough and dirty about this design. The fine frame surrounds the glass surface made from high quality PURE WHITE by GRIFFWERK. This new lightness has won over international jurys, with this glass door system developed in Blaustein receiving many awards. For example, the red dot Award 2017, followed by the German Design award for 2019.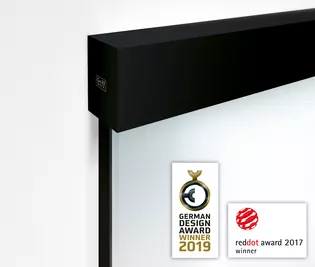 The Blaustein-based design team has further refined the system for 2019. Now there are new hints of the loft origins of the design line, with the glass surface divided up in a reminder of the transom windows in old industrial buildings. These divisions are no longer functional, however. They create exciting compositions that might even have found favour with a Piet Mondrian.
PLANEO AIR not only received a red dot award but also the German Design Award 2019.
Minimalistic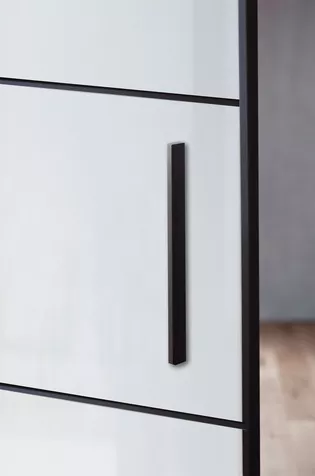 ---
OPTIMIZE FLOOR PLANS
Glass installations by GRIFFWERK
Open floor plans offer many advantages and are enjoying great popularity. Even as affordable space is increasingly precious, it becomes necessary to optimize room divisions so as to create a spacious impression. Transparent glass doors are the perfect solution as they visually open rooms. If required however, they can also be closed, which is an enormous advantage compared with open floor plans. Existing floor plans too can be optimized with glass doors. For example for improving the lighting of windowless rooms or stairways. Breaking through a wall creates new room interconnections that can be stagemanaged individually with glass installations.

SURFACE VARIATIONS for Planeo 120 glass systems