Better with glass doors
Reinterpret rooms with glass doors
Doors play an important role in the living environment. They demarcate, bring structure to the room, protect against noise and provide peace and quiet. However, a conventional door can detract from the living experience. The door needs space to open and close, and classic wooden doors prevent light from entering. A high-quality sliding glass door is a convincing alternative.
A sliding glass door increases the quality of living!
The quality of living clearly increases when a glass door provides more light and a feeling of open space. Glass doors bring out these advantages much better than wooden doors. The advantages of the sliding glass door, whether clear glass, white glass or satin glass, speak for themselves: the room looks brighter and more spacious. Even with a closed sliding glass door, an open, free living feeling is created. The swing area is omitted, so you have much more personal freedom of design when furnishing the room. In addition, you save on energy costs, because a closed door prevents unwanted heat loss - yet the brightness remains.
---
Design and materials
The right choice for every ambience
Basically, you can choose between clear and frosted glass. In addition, we offer exclusive glass materials, for example, a door made of white glass has no annoying green tint. You can get your glass door with numerous decors. The completely plain, transparent door is just as possible as a frosted finish. Of course, modern glass materials also offer a high level of security. Even with a door made of toughened safety glass (TSG), a good safety standard is guaranteed. You get even more security with a LSG glass door. The LSG glass door consists of laminated safety glass (LSG).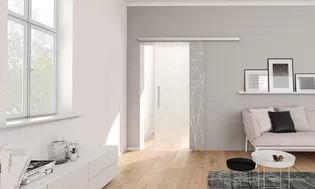 Bright as snow - white glass doors
The all-glass door is available in various designs, transparent or frosted glass. Customized dimensions are also possible. Perfect examples of exclusive glass doors are our doors made of white glass. White glass is a material low in iron oxide, so it lacks the slight green shimmer that normal clear glass has. If you are looking for a glass door that is also opaque, satin glass, also known as frosted glass, is the best choice. Choose a custom glass door that will enhance your interior and fit your needs!
The sliding glass door with privacy screen: satin glass prevents unwanted views
The sliding glass door made of white glass or frosted glass, so-called satin glass, creates a light and airy effect of the room. However, satin glass is opaque and creates the desired privacy. The incident light is refracted and transformed into a diffuse, uniform light. Ceramic screen printing creates a frosted surface with a silky appearance. Satinato glass is abrasion and scratch resistant and is suitable for a variety of applications. Office partitions, for example, are made of it. As a material for a glass door, frosted glass is a good solution when the sliding door system is used in kitchens, bathrooms and toilets, as it prevents people from looking in. Nevertheless, the brightness in the rooms is preserved. This variant is ideal, for example, if your bathroom is directly adjacent to the bedroom. The advantages of opaque glass are particularly effective in interior rooms without windows. The sliding door made of Satinato glass is also optionally available with soft closing. Stylistically matching glass door fittings harmoniously round off the overall impression.
The LSG glass door - safety first!
Many of our glass doors are also manufactured as LSG (laminated safety glass) doors. A foil is glued between two TSG glass panes (toughened safety glass). Should the glass break, the splinters adhere to the film. This significantly minimizes the risk of injury. The LSG glass door provides maximum safety in living areas and offices. Even with the utmost caution, situations can occur in which a glass door is damaged. With a LSG glass door you are on the safe side. Whether it's rampaging children running into the door, impetuous employees not paying attention, or other mishaps: the LSG glass door reliably prevents anyone from being injured by the splinters.
---
Hardware systems - The choice between sliding door system and revolving door system
A sliding door system saves space after no swing area is required. A swing door system, on the contrary, closes better, and installation is also easier. This design does not require space on the wall. Ideal application areas for a sliding door system with a sliding glass door are all living rooms where you want an open and airy ambience. Sliding glass doors are also ideal for offices. Furthermore, the sliding glass door is a good solution if you want to increase the natural light incidence in interior rooms. The connecting door made of white glass or frosted glass, so-called satin glass, provides brightness. Glass door fittings are available in many variations - so you can give the sliding door an individual look.
With our sliding door systems, functionality and design go hand in hand. The complete set consists of the sliding door system and the matching handle bar or handle shell. Glass door fittings are available in a wide variety.
As an option, the sliding door systems are also available with soft closing. The soft-close feature prevents annoying slamming noises. The modern comfort technology ensures gentle braking; the sliding glass door cannot hit or rebound. The automatic retraction keeps the door securely in the desired position (open or closed) with two locks. Safety is also not neglected with our sliding glass doors. With a LSG glass door, the risk of injury in the event of glass breakage is low.
---
Care tips for the glass door
How to preserve the beauty of your glass door
Glass doors are healthy for the home and easy to clean. Light soiling can be removed with plenty of water and a soft microfiber cloth, sponge or chamois leather. In addition, cleaning agents such as commercially available glass cleaners or solvents such as methylated spirits, petroleum ether or acetone may be used. But please never use acidic cleaning agents, alkaline lyes or cleaners containing fluoride when dealing with satinized glass! Especially when cleaning satinized glass (so-called frosted glass), only gentle even pressure may be applied, otherwise abrasion and fuzz may occur. Then the beauty of your frosted glass door will be preserved permanently.
Glass door shining preserved
Cleaning your glass door
When cleaning your interior glass, it is sufficient to clean the surface with clear water. For this purpose, please use a sponge or a soft, lint-free cloth. Clean over a large area, not selectively. If there are residues, e.g. from greasy fingers, you can also use commercially available glass cleaners (foam cleaners). Please do not use any abrasive, corrosive, acidic or alkaline cleaning agents, as these can attack the glass surface and also cause scratches. You can wipe excess water dry with a microfiber cloth. If water acts on the glass surface over a longer period of time, stubborn lime residues can form.
In the case of LSG doors, make sure that the edge does not come into contact with excess water, otherwise moisture and the cleaning agent can penetrate the compound.
Proper care for satin glass
Do not apply too much pressure to satinized glass so that the surface structure is not abraded. To avoid the so-called cloud formation, rub your door dry over a large area with a microfiber cloth. Paper or cellulose cloths should not be used, as they have too much abrasion. Screen-printed surfaces are softer than the pure glass surface and therefore more sensitive to mechanical cleaning agents. In addition, they must not be cleaned with acids, as these can attack the printed image.
Attention: Please do not use any scratching tools, razor blades or scrapers. They can leave visible and irreparable scratch marks on the surface.