Country house style
Living in country style: The playful furnishing in rustic design and how doors, door and window handles from Griffwerk help - a guide.
Country style: what is it?
A country house kitchen in Scandinavian style evokes different associations than a Bavarian kitchen in rural style. In terms of color, the furnishings can therefore sometimes turn out unusually gaudy in the Scandilook: the characteristic Scandinavian red, with simple furnishings or a squiggly country house furnishings in Bavarian blue, set contrasting accents compared to the rather simple and classic country house style with muted color selection. Cozy living: The classic country house style thrives on unexciting pastel colors - earth tones with white or black accents, make country house style furnishings look modern and timeless despite playful romantic design elements. Furniture made of solid wood provides enough storage space: a buffet cabinet made of solid wood in shabby-chic style, with profiled fronts. A mix of styles of furniture is also conceivable. A glass table as a modern piece of furniture, placed on wide wooden floorboards in classic country style harmonizes. Light linen curtains and fabrics with floral patterns are typical features of romantic style. Decorative elements are made of natural materials. Dried bouquets of wild flowers, leather, linen, cotton, natural stone or ceramics perfectly complete the idyllic country style. Each room in country style consists of several elements that can be selected individually. Kitchen counter, doors and windows are also important to achieve the right overall look in your home. GRIFFWERK will help you with this: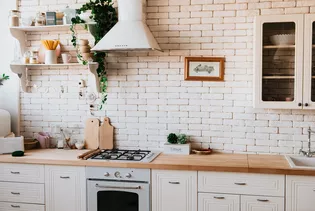 The country style kitchen
Through the interplay of natural colors, materials and rustic design elements: Furnish kitchens in country style
Kitchen units with a countertop made of wood, fit wonderfully into a country style kitchen. The individual kitchen fronts can be plain or elaborate, decorated by coffered or framed fronts. Decorative moldings on the fronts or panel structures also fit ideally into the style. Doors made of wood or timeless modern doors made of white or gray glass, visually fit very well with the other natural materials of the kitchen in country style.
Country style: the right choice of door
First eye-catcher in front of each room: the choice of the door design sets the first expectations of the premises that are hidden behind it.
Doors made of natural wood, wooden doors in pastel shades - but also glass doors, emphasize the individually desired look. Glass doors stand for a clean, modern interior style. A simple interior in the country style can be perfectly combined with a glass door. All-glass doors or doors with glass elements - swing door or sliding door: A swing door made of glass can be made of green-tinted clear glass or color-neutral white glass. Satin glass doors protect against unwanted glances without sacrificing light transmission. The frosted glass surface can optionally include decorative cutouts made of clear glass. Line models: LINES 582 or LINES 589 from GRIFFWERK. Full-surface frosted variants: ALL SATIN 501 frosted glass or BAROCK 529 textured glass support country style living with modern flair.
Glass doors are made of TSG or LSG glass. LSG glass doors, also have the advantage that they have sound-insulating properties - which is an additional plus point.
GRIFFWERK helps you to find the right door, including optimally matching door fittings.
Small but essential elements: door hardware helps to create the perfect country house ambience
For each door there is a suitable door hardware in country style.
Door handle sets for single-action doors:
Ornamental door handles: the silver version CAROLA, with a round cover, or the black door handle CAROLA PIATTA S, are the ideal example of door handles in classic country style.
Depending on your taste, you can also attach simple, modern door hardware: For example, the VERONICA model from GRIFFWERK.
For the color accent: the golden door handle ALINA. Rosette sets: angular or round - depending on your preference, the shape of the cover can also vary here.
Door handles for sliding doors - handle bar or handle shell: Simple door handles with straight lines - but also curved or decorated door handles for the sliding door can be mounted.
A timeless variant in silver and black: The handle bar LUCIA.
For the visual minimalist: The PLANEO GS_49017 handle bar focuses on reduced, elegant design.
An eye-catcher with clean lines and pleasant curves: The R8 handle bar from GRIFFWERK.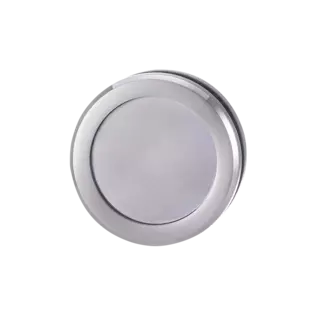 Handle shells in sliding doors are another variant to close and open doors. Round or angular - here, too, there are different looks. The circular CIRCLE handle shell in silver from GRIFFWERK also looks good on sliding doors leading to rooms in the country house style.