Sliding doors: revolution for interior design
Sliding doors are the space-saving and modern room partition. Different design options and Sliding door systems make them the trend of interior design for versatile use of space.
Creative Sliding doors
Sliding doors are usually installed to separate rooms. However, there are other ways to install Sliding doors in rooms. Sliding doors can be used to close large wall shelves, if necessary, and completely change the look of the room. Niches in rooms with sloping ceilings can be separated from the rest of the room with Sliding doors and used as storage space that cannot be seen. With a view: Sliding doors made of glass separate rooms and allow you to see into the other room. A partitioned office with sliding glass doors, in the corner of a large room, still lets in enough daylight.
Sliding door design options
Sliding door design options are diverse. Sliding door leaf can be made of Wood, Glass, Plastic or Metal. Wood and glass is the most common material of Sliding doors. Sliding glass doors are the modern way to divide rooms and fit all interior styles. It is also possible to combine Wood and Glass, as a viewing window in the Sliding door. Sliding doors made of frosted glass are opaque and still retain their translucency. This effect can also be created with so-called frosted glass film for subsequent sticking on the glass pane. Wood and plastic Sliding doors in bright colors accentuate the room and combine functionality and design. It is also possible to break the style. A very playful interior style, can be broken with a Sliding door with clear lines and create a mix of styles.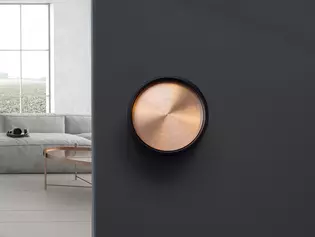 Sliding door door handles
The choice of Door handles influences the overall appearance of the Sliding door. Color and form of Door handles significantly determine the design. Clear-cut door handles in Black or Gold, look different on every sliding door and change the look of the overall picture. Elegant Door handles in Black or Silver are timeless and blend unobtrusively into different interior styles. Door handles can also be the color highlight of a Sliding door if the rest of the Sliding door is to be kept rather Clear-cut. A bright red Door handle fits perfectly with the rest of the design interior style with clear lines. Round or straight-edged, door bars or handle shells - the choice of forms of Door handles is wide. Plain handle shells perfectly match with Clear-cut Sliding doors.