Sun and privacy protection for Glass doors and Windows
What are the different options for sun and privacy protection on Windows and Glass doors and how to apply them: An overview.
Pleated blinds
Pleated blinds are made of fabric or Plastic and are attached to the inside of the window pane. The opaque (synthetic) fabric can be slid up and below. The special thing about pleated blinds is that they can be aligned selectively - that is, so that they only opaque or shade a certain area of the Window or door. The installation is usually quite simple. There are pleated blinds that are mounted with screws. Pleated blinds with clamping rods do not require drilling and are clamped into the window frame. For mounting on Glass doors, adhesive strips are optimal. Usually pleated blinds are used only for the interior.
There are different classes of light transmission of pleated blinds: choose them depending on the purpose of the pleated blind - the smaller the class, the more light shines through.
Blinds
Blinds consist of slats made of Aluminium, Wood or plastic. They are available for both indoor and outdoor use. By pulling a cord or chain, the blind is moved down or up. A turning rod is used to change the angle of the slats until the desired light incidence is achieved. The blinds are attached to the Window or door with screws, adhesive or clamping devices. For Glass doors are best suited blinds made of plastic or aluminum, due to their light weight.
Shutters
Roller shutters are installed outdoors and are particularly robust. Especially in front of Glass doors to the outside, the installation of roller shutters is useful, because it protects the glass during storms and also increases the protection against burglary. Roller shutters can be recessed into the facade of the house. It is also possible to install a surface box above the door to allow the installation of a roller shutter even later.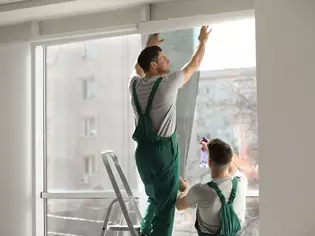 Films
An inexpensive alternative to make glass panes opaque are films. They are available in different colors and transparency. Films with special NL protection protect against harmful solar radiation. Films in frosted glass look are opaque, but still allow enough daylight to enter through the glass door.
Switchable glass
Darkening glass at the touch of a button: Switchable glass, also called smart glass, is special glass that changes color as a result of sunlight or at the touch of a button. Thermochromic glass discolors depending on the pane temperature due to sunlight and becomes dark. Furthermore, there are special glass panes with power supply that change their appearance and become milky at the push of a button.