Designer Jette Joop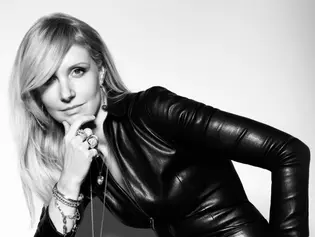 About Jette Joop
When one speaks of Jette Joop, one first thinks of fashion or jewelry design. However, the origin of her work lies not in the field of fashion, but in classic product design. After graduating from high school in Oxford, England, she studied industrial design at the Pasadena Art Center College of Design in California, USA. From her point of view, "it had to be done" because: "If your father is very successful in fashion, then as a daughter you definitely want to go your own way first." She has not regretted this decision. After her studies, she initially went into the fashion industry: In New York, she worked for renowned labels such as Barry Kieselstein-Cord and Ralph Lauren.
In 1997, Jette Joop founded her own company in Germany, the JETTE Group, based in Hamburg, Berlin and Potsdam. JETTE products range from Fashion, Accessories, Jewelry and Fragrance to Living and Industrial Design. JETTE's brand philosophy stands for the combination of sophisticated design with high value. Jette Joop sees working for different industries as an advantage: "It allows us to think in a networked way, and that leads to extraordinary design products." For Jette Joop, networked thinking is characterized by combining insights from a wide variety of industries and thereby further developing the quality of the product. "For me, architecture can become fashion and automotive design can become jewelry or a fitting, and vice versa," the designer states, referring to this as crossover design.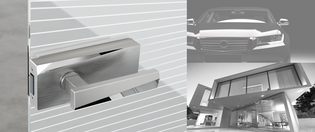 Jette Joop about design
From inspiration
The origin of my design is not in fashion. However, many different design fields can be combined. For example, architecture can become fashion and automotive design can become jewelry. Modern, networked thinking leads to crossover in design.
Origins in automotive design
Automotive design in particular has had a great influence on me. I learned a lot in my studies back then and developed a design language that expresses dynamism and at the same time elegance and value. I translate many of these design techniques into my work today.
About hardware
Door hardware plays a huge role in everyday life. Traditionally, they were considered a predictor of value for the space and revealed something of the individuality of the occupant. They had a differentiated design and were the result of high craftsmanship. We wanted to translate something of this idea into contemporary door handle design.
Glass doors
The desire for an open, spacious living environment has become stronger, even though we have less space available at the same time. Glass doors are ideal here: they open up rooms and allow long lines of sight. Fascinating are the finishing possibilities, e.g. by laser technology. They make glass doors a very individual eye-catcher in the interior. It is fun to stage rooms with them.
Cooperation
The glass doors and fittings of the "Jette Doors" collection were created in collaboration with the southern German fittings manufacturer GRIFFWERK. The company stands for high-quality door fittings and comprehensive design concepts from glass doors to hardware. Since GRIFFWERK produces both product groups in-house, it was possible to implement the concepts of designer Jette Joop - which originate from jewelry design - according to the principle of crossover design, for both the hardware and the glass doors. The result was a coherent design system that allows a wide variety of possible combinations. The aim was also to provide glass doors and fittings as creative elements of interior design with more individual choices. No two glass doors should be the same. Decors, glass colors, privacy screen variants and hardware systems in distinctive designs result in a multitude of design options and open up a wide range of design possibilities in this collection for the very individually furnished home.
The collection of the designer Jette Joop is available through specialized dealers. You can find dealers near you in our dealer search.