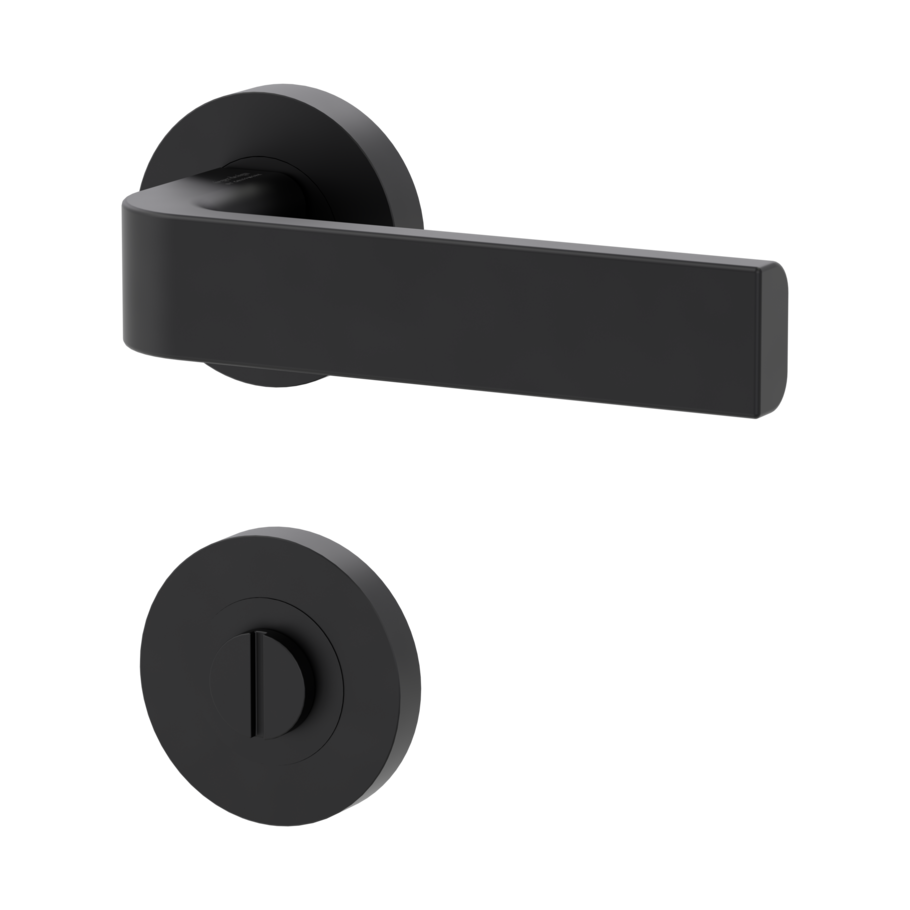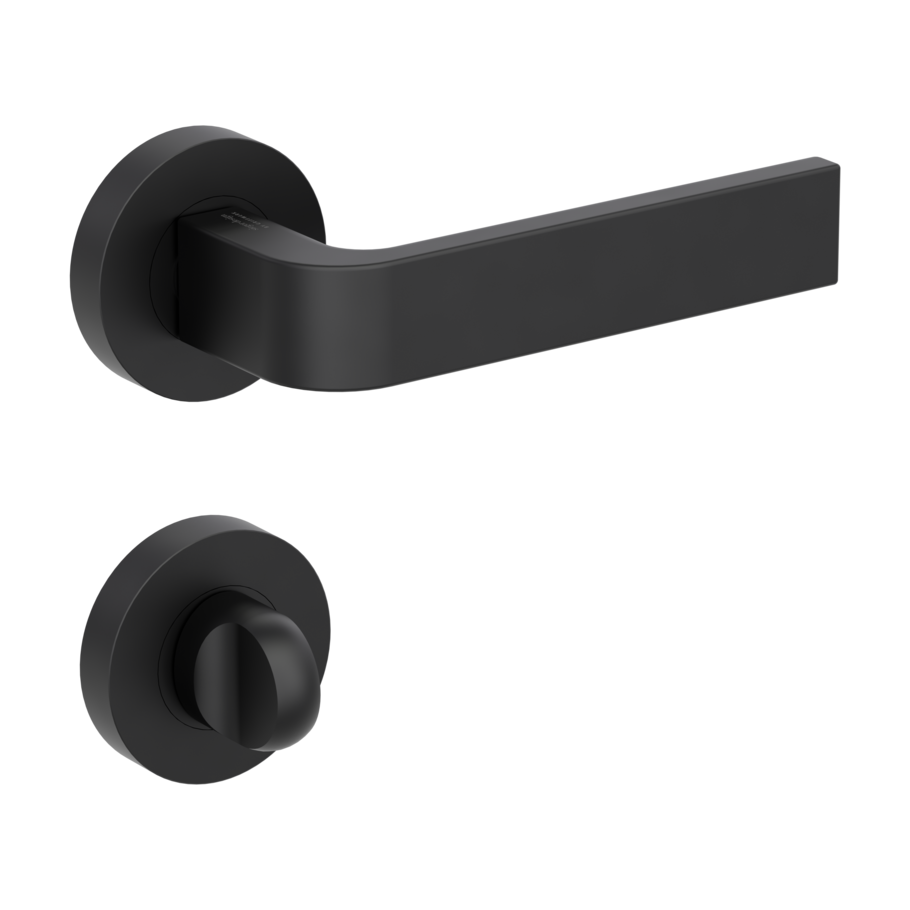 door handle set GRAPH
screw on cl4 rose set round
wc graphite black
sieger design GRAPH
Elegant and reduced
GRAPH appears elegant and minimalist. Its clear, geometrical design desires a formal relationship with your door. GRAPH does not turn away but is self-confidentily restrained. The continuous parallel lines of the top view enjoys a contrast to the austere edge of the visible surface, thanks to the gentle curvature of the rear of the handle. GRAPH is synonymous with a systematically modern attitude.
What is a WC-closer?
The rosette set with WC lock is considered the classic for the bathroom. A door handle with WC lock, abbreviated WC at Griffwerk, is equipped with a rotary knob on the inside and an emergency release on the outside. With the WC lock on the inside, the room door can be locked from the inside by turning it once. In an emergency, the door can be emergency unlocked from the outside, e.g. with a coin.
Graphite black
Black is finding its way into architecture, whether on large window fronts, as entrance doors or in interior details. Griffwerk offers the right selection of black fittings. A special feature is the black shade developed by GRIFFWERK, inspired by the black of graphite. The material look is reminiscent of black graphite powder, the feel is surprisingly soft. Graphite black impresses with its unusual, velvety matt finish and soft surface. Graphite black accents can be repeated in the room. They have a very noble effect and do not stand for elegant refinement and luxury for nothing. Griffwerk offers graphite black design in various product categories, allowing a holistic design of any interior. Graphite black is close to the RAL colour RAL 9011 (graphite black). Whether door handle, window handle, handle shell pair or even just handle bar, what is important is a uniform interplay of different colour elements that emerges from a conscious colour concept.
Mid-Century Modern
Mid-Century Modern stands for a formal design in architecture. The origin of this style of living can be found in the USA and Europe between the 1930s and 1960s. Mid-Century Modern is characterised above all by clear lines, organic forms and streamlined design without further embellishments. In terms of colour, the emphasis is on earth tones. In homes today, the Mid-Century Modern style is often found in sofas and other furniture, but the style is also an interior design idea on door handles. our door handles are perfectly combined with it.
Ethno Style
The word "ethno" is derived from the ancient Greek word "ethnos" and means "people". The motto of the Ethno furnishing style is to unite different designs and break with fixed patterns. This creates daring combinations. Perfect for people who are not afraid of exotic and archaic ideas. Would you like a cushion with a zigzag pattern, a whimsical couch or an unusual door handle for a very special flair in your home? Then the ethno living style is the choice for you.
Industrial Style
Untreated wood, exposed pipes, unrendered brick walls and concrete floors: The trendy interior style looks rough and does without frills. Everything looks used and unfinished. This is what makes the industrial style of living so special. The furnishing style is particularly popular in large and open loft flats. Typical of the interior design is a lush and massive leather couch, but door handles also contribute to the flair. Colours are used in industrial style to a limited extent, but in combination. This is to bring out an authentic industrial design.