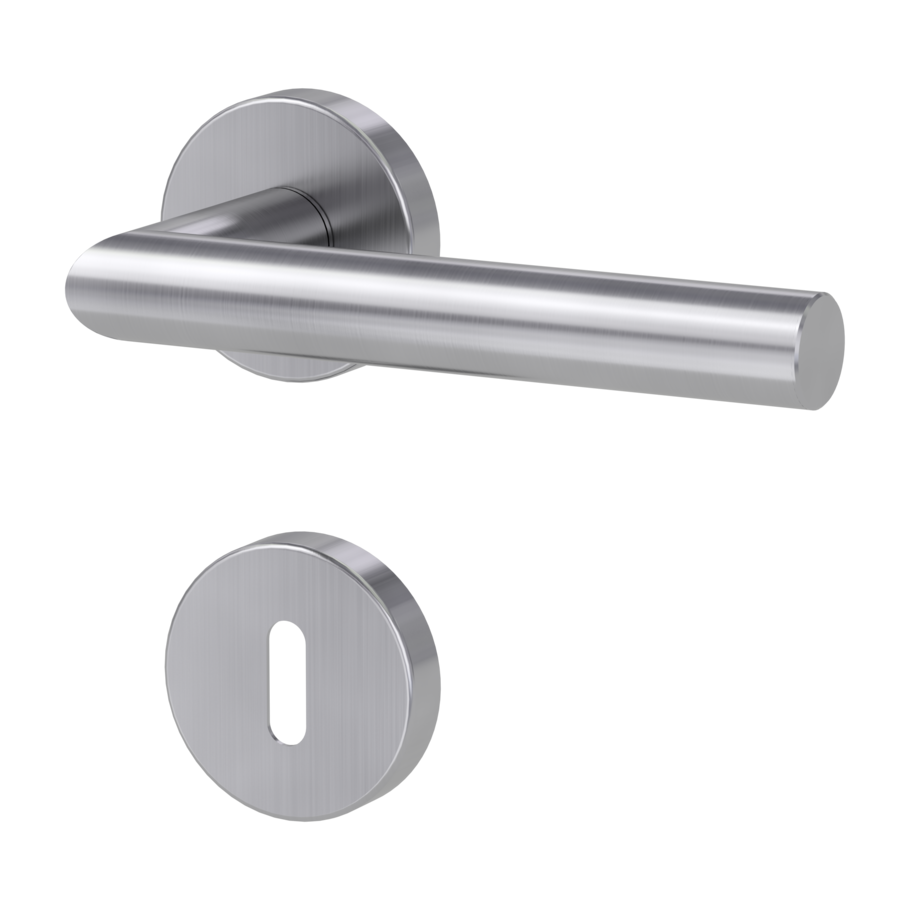 door handle set LUCIA
clip on cl3 rose set round
mortice lock brushed steel
LUCIA
Material accents
LUCIA is available in clip-on or screw-on technique in stainless steel, graphite black and graphite black with brass or copper accent. "Our" black is a matte, very deep black. The coating is so resistant that even tools can be coated with it. Nevertheless, it is not sensitive to finger prints.Advantages of clip-on technique:
stainless steel, no visible screws
Clip-on cams for quick installation
Plain bearings, maintenance-free, invisible
Lifting springs, spring steam, bilateral
Subconstruction of high-quality plastic
Audited to DIN EN 1906
What is a coloured beard lock?
Buntbart door handle sets, known at Griffwerk as BB for short, are suitable for all types of room doors, e.g. interior doors made of wood. This is also referred to as a simple door lock. Buntbart locks should not be used outdoors, as they can be easily opened by unauthorised persons without a key with a locking hook. A BB lock is therefore particularly suitable for interior doors without security requirements.
smart2lock by Griffwerk
Closing and locking with just one hand. Smart2lock stands for comfortable locking function with a purist look. The discreet locking slide is conveniently located within thumb's reach. Key rosettes and WC bolts are no longer required. The outcome is a new, purist door aesthetic.
Upgrade to screw technology?
Screw-on technology
screw-on rosette in stainless steel
invisible screw connection and cut fine thread
maintenance-free, invisible slide bearing (no black ring on the door handle)
counterrotating M4 fitting
fixed pivoted door handle
pre-assembled door handle
double sided retaining springs
stainless steel substructure
The classic among door handle shapes
The absolute classic among door handle shapes, LUCIA, can be assigned to the Bauhaus style. The outstanding design is not based on playful details, but, as usual in the Bauhaus style, on the simplification of a form. The compound basic forms and the use of basic geometric bodies are typical design features. Not only in Bauhaus style houses does the handle fit perfectly into the living room atmosphere, even on classic style doors this design becomes a representative eye-catcher with traditional roots.
Who is LUCIA?
As you can already guess from the sound, LUCIA is a female first name, which translates from Latin and means "light".
The name also refers to a festival that is celebrated in the Scandinavian countries. As is not to be assumed otherwise, this is a festival of light - the counterpart to midsummer celebrated in winter.
LUCIA is a saint in whose honor the Festival of Light is celebrated. This is the reason for the celebration, which is traditionally celebrated every year in Sweden, Norway and in Denmark as well as in Finland. No one has ever seen the saint, yet she is present at every festival. In most families the eldest daughter dresses up as the saint, whose head is decorated with a brightly lit wreath of candles. Since this is a festival of light, she leads the procession by candlelight and leads the retinue to the main place of the festival.
Why does our door handle have a female name at all?
At the beginning of our company's foundation, we have given all handles melodious names. Since this model in the Frankfurt form is an L-shaped handle, we considered a name with L as a good choice. The main reason for the naming is simply the sound of the name, which fits the shape of the handle and is easy to remember. The design of the handle is as sonorous as the name. Simple, slightly industrial and therefore suitable for every house, the door handle with the unforgettable name enjoys great popularity.
What is an L-shape?
The L-shape is a door handle that looks like the letter "L" in top view. A door handle in the L-shape consists of two stainless steel round tubes, mitered and assembled - so that the handle forms a right angle.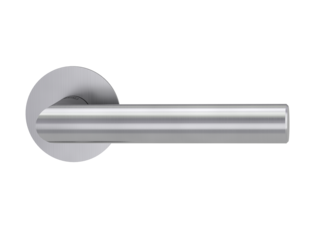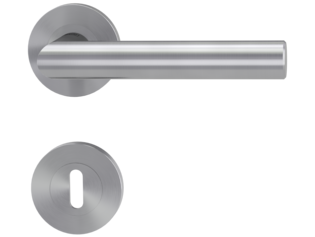 What is the Frankfurt Model - the Frankfurt Form?
The "founding father" of the L shape is the Frankfurt model from the 1920s. In the 80s, the door handle was used in the German Museum of Architecture in Frankfurt, where the name for the door handle probably comes from. A second approach is based on a different name origin for the handle: The L-shape was designed by the Frankfurt architect Ferdinand Kramer and thus came to its name. Since 1925 the door handle has been mass-produced in the Frankfurt model.
Even if the history of its origin is unclear: the door handle and the city of Frankfurt are closely connected. According to records, four different shapes are attributed to the door handle of the Frankfurt model. First, the L-shaped handle was produced from white bronze and nickel silver. This was followed by a switch to cast iron, aluminum and finally stainless steel. From 1920-1940, the Frankfurt shape for the interior door was the most commonly used handle for the room door.
Mid-Century Modern
Mid-Century Modern stands for a formal design in architecture. The origin of this style of living can be found in the USA and Europe between the 1930s and 1960s. Mid-Century Modern is characterised above all by clear lines, organic forms and streamlined design without further embellishments. In terms of colour, the emphasis is on earth tones. In homes today, the Mid-Century Modern style is often found in sofas and other furniture, but the style is also an interior design idea on door handles. our door handles are perfectly combined with it.
Hygge
Hygge comes from Denmark and is more than just a style of living: it is a way of life. Cosiness, security and conviviality are particularly important in a hygge atmosphere. Such a room climate is created by warm colours such as beige, cream, white or pastel grey. Supported by natural materials such as wood, wool or stainless steel, hygge turns your living space into a feel-good atmosphere. Choosing the right door handle is the first step towards a Hygge living style. Door handles from Griffwerk with a warm look in the colours cashmere grey or stainless steel are particularly suitable.
Minimalism
According to the Duden dictionary, minimalism means "to deliberately limit to a minimum". The strength of minimalist interior design lies in the quiet focus on individual furnishing elements. Minimalism is not only a style of living. Rather, it describes an attitude to life that is reflected in the living space. Focus on the essential and do without the superfluous. That is the motto of a minimalist lifestyle. The goal is a simple elegance and purist structure. Choosing a minimalist door handle is the first step towards a minimalist living style.
Care instructions for stainless steel: Door handles, window handles and co.
High quality material with intelligent surface
GRIFFWERK is not limited to noble design - we are proud of the inner values of our products. We exclusively use stainless steel of alloy 304, also known as "1.4301". This high quality steel is - matt or polished - due to its composition stainless with special corrosion resistance and durability. Stainless steel forms a very thin protective passive layer, which rebuilds even after surface damage caused by chemical reactions.
Our care spray
GRIFFWERK recommends the "GRIFFWERK Care Spray", which is specially designed for our products, to care for and maintain the value of your stainless steel door handles and fittings. It cleans intensively, has a dirt-repellent effect and thus maintains the value of your stainless steel room door set, door handles and door fittings. Please do not use any aggressive cleaning agents or scouring agents containing alcohol for cleaning - regardless of whether the stainless steel surface is matt, polished or shiny. Please note that the surface of the lever handle set can be damaged under extraordinary stress, for example by building dirt, grinding dust, aggressive vapors or salt water. For this reason, clean the handle set with GRIFFWERK Care Spray immediately after soiling. Our GRIFFWERK care spray is available from all our trade partners.