Glass apartment doors
Modern apartment and house entrance doors made of glass bring elegance and brightness to the entrance area. A glass entrance door also means efficient thermal insulation. What matters in the selection.
Glass apartment doors: types
Apartment doors made of glass are available in many different designs. Most of the apartment doors are swing doors. They are also called swing doors. On one side, the door is hinged to the wall, or hinged - usually you can choose between DIN left and DIN right doors. Glass swing doors offer many design possibilities: Lettering or motifs on the glass pane can be individually realized.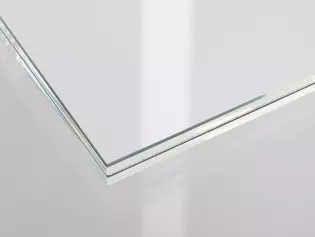 Types of glass for apartment doors
Glass doors for apartment or house entrance are available in different types of glass. The stability of the glass depends on the manufacturing process.
Most apartment doors are made of laminated safety glass. Laminated safety glass (LSG) consists of two specially heat-treated glass panes. A transparent and tear-resistant film is sandwiched between the panes. If the glass pane breaks, the shards adhere to this film and the pane does not break into individual shards. In addition, the film between the glass panes has a more sound-absorbing effect than is the case with toughened safety glass. Toughened safety glass (ESG) consists of a glass pane that has been specially heat-treated, making it even more impact-resistant.
To customize front doors, clear glass, frosted glass or a special design lasered into the glass are all possible options. Of course, there are also doors with glass inserts, so-called light cutouts.
Glass apartment doors: sound and heat insulating
Apartment doors made of glass are sound and heat insulating thanks to rubber seals. The rubber seals are visually inconspicuous, reliably keep out drafts and do not allow heating air to escape.
Particularly high thermal insulation is provided by insulating glass, which is usually installed in a front door with glass insert as multiple glazing. The glazing of the front door as a glass door also depends on what material the entrance door is made of - often aluminum, steel or wood. Apartment entrance doors made of wood are optimal for 2 and 3-fold thermal glazing and are durable. For plastic frames should be used a maximum of 2-fold thermal glazing.
Glass apartment doors matching interior glass doors
For the optimal design experience, combine the look of your glass apartment door with that of your all-glass interior doors. Minimalist apartment entrance door? Goes best with sleek, modern all-glass doors or sliding glass doors. Also recommended: use the same material for the front door handle as for your interior doors - if at all possible: use the same handle shape. This creates the perfect uniform look.
---
The most frequently asked questions about glass flat doors
Which questions are most frequently asked about glass flat doors? We found out using software that analyses which questions people ask voice assistants from Apple, Google and the like. We answer two of them here:
1. Do glass flat doors seal tightly?
Glass doors are available with tight-closing systems. A rubber edging on the door keeps out draughts and also reduces noise.
2. When are glass flat doors suitable?
Glass doors are useful when the room needs to be brightened up. Small rooms in particular appear more open and larger due to the incidence of light. Glass doors are suitable for all rooms. They are protected from view by satin glass and still allow enough daylight to enter.