How to find the right room door
Interior doors connect rooms, protect against cold or drafts and contribute to the appearance of the room. But which room door is the right one for which purpose? Our guide reveals...
How "good" a room door is always depends on the area of application. How often and heavily is the door used? What role does the stability of the door play? Should the room door be equipped with a light section? Which rooms does the door connect or separate? Let's start with the material.
The right material for the door to the room
Basically, there are three materials from which room doors can be made: Solid wood, derived timber products and glass. Important when choosing the right material: what is the function of the door and which rooms it connects? Doors for bedrooms and children's rooms need good sound insulation. In the bathroom, strong resistance to moisture is required. If the door separates differently heated rooms - for example, bedroom and living room - good thermal insulation is crucial.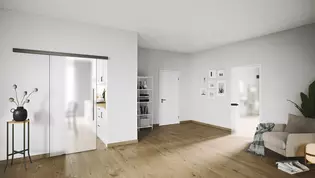 Room doors: The three materials at a glance:
Room door made of solid wood
Room doors made of massive wood such as oak, beech or pine, have the advantage that they look high-quality and are particularly individual due to the wood grain. In addition, they show good sound and heat insulating properties. The disadvantage of solid wood: the wood structure can quickly warp, so that the door can no longer be closed or opened properly - because the material is quickly attacked by temperature fluctuations or humidity.
Room door made of wood-based material
Wood-based material - it can be different materials such as chipboard or fiberboard. Unlike doors made of solid wood, room doors made of wood-based materials are less susceptible to moisture in the air and therefore hardly warp, but are less sound and heat insulating.
Room door made of glass
Compared to the wooden door, these interior doors - with the exception of the handle set and hinges - are made entirely of glass. This not only visually enlarges the room due to the greater incidence of light, the doors are also particularly resistant to humidity. Since they are also very easy to clean, glass doors are well suited as bathroom or kitchen doors. For doors that are frequently used, you can opt for safety glass: Doors made of toughened or laminated safety glass withstand mechanical impact well.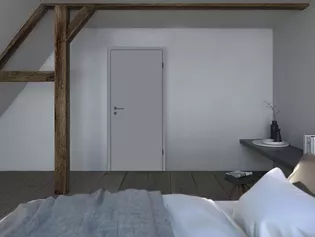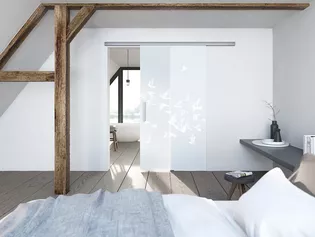 ---
The right construction for the room door
Interior doors differ not only in terms of material, but also in their construction. A distinction is made between sliding door and swing door, as well as smooth interior door and frame interior door.
Smooth room door vs. frame room door
Smooth room doors are called "smooth" because they have no visible frame. This makes them look more modern. The wooden frame is located under the surface and is covered with panels on both sides at the level of the lock and hinges. Most often, these doors are made of wood materials.
Frame interior doors, on the other hand, have - as the name suggests - a frame-like door leaf. This can be made of solid wood or wood materials. Frame interior doors are mainly used when larger glass surfaces or windows are to be inserted into a door. In addition, they offer a more traditional look, which is very popular, for example, in the country style.
Sliding door vs. swinging door
Swing doors - also called swing doors - are the most common. They open into or out of the room. By closing a swinging door, the person entering or leaving the room also closes it acoustically. The disadvantage of the swinging door: the swinging area must remain free so that the door can be opened and closed completely.
The barrier-free sliding door, on the other hand, saves space because the swing area is omitted because the sliding door "disappears" into or against the wall.
---
The right filling for the room door
Depending on what the interior door is filled with, its sound and heat insulating properties and stability differ. For smooth interior doors, inserts made of honeycomb cores, tubular chipboard inserts, tubular chipboard and solid chipboard are common. Frame interior doors can be filled with solid wood, rod gluing or laminated gluing. More information on the different variants can be found in our article on the subject of door leaves.
---
The right surface design for the room doo
The room door should not only open and close well, be durable as well as stable - it must also meet its own aesthetic requirements.
Decor - cheap and diverse
A foiled surface coating is easy to clean and cost-effective. Thanks to the printed foil, a particularly large number of designs are possible - from wood look to fancy geometric patterns. In addition, the decorative foil impresses with its color and light resistance. But beware: the foils are susceptible to scratches and impacts.
Lacquer - modern and easy to clean
Classic, but still on trend: painted doors. Whether matt or glossy - white doors in particular have been making a comeback in recent years. They make the room look brighter, more modern and larger. But of course, there are no limits to your color preferences. In addition, lacquered doors are particularly easy to clean. Go for a high-quality lacquer to get a hard-wearing surface.
CPL - laminate as an alternative to real wood
CPL stands for Continous Pressure Laminate - a special laminate coating that can be applied to doors. This allows you to achieve a real wood effect without having to invest in real wood. Room doors with CPL coating are suitable for particularly frequented passage doors, as they are abrasion and impact resistant and also easy to clean. In addition to a wide variety of designs and resistance, CPL surfaces also impress with the fact that they are lightfast.
Real wood veneer - individual and noble
A thin top layer of real wood - that's what real wood veneer is all about. The individual wood grain makes each door unique. This individuality also increases over time, as the wood grain and color change with increasing useful life. Real wood veneer is therefore also significantly more cost-intensive than other surface coatings.
Solid wood - classic and cozy-warm
Solid wood is and remains the classic. Since natural wood is also processed here, individual doors with interesting wood grains are created. Solid wood also contributes to a warm living climate. As long as the wood is not exposed to moisture or temperature fluctuations, the surface also remains stable and robust.
Special case glass door
You can also customize your glass door. Modern processing techniques such as screen printing or laser technology are often used here. You can find out which variant is right for you on our product overview page for glass doors.
---
The most frequently asked questions about the room door
Which questions are most frequently asked about lever handle sets? We found out using software that analyses which questions people ask voice assistants from Apple, Google and others. We answer six of them here:
What is the cost of a room door?
Room doors are available in different price ranges. Interior doors are available from about 100 euros.
What are the trends in interior doors?
Elegant and space-saving room partition: sliding doors made of wood or glass are becoming increasingly popular in living rooms.
Which room door fits which room?
The right choice of the room door, depends on the interior and the function of the room. Tightly closing room doors keep out noise and drafts.
What materials are used for the room door?
Room doors are usually made of wood, glass, or plastic. Wooden doors are the most commonly used doors as they give a natural warmth and beauty, while glass doors let light into rooms and visually enlarge them.
What are the different types of a room door?
There are different types of room doors such as hinged doors, sliding doors, swing doors, folding doors and glass doors. Hinged doors consist of two wings that can be opened inwards or outwards. Sliding doors are doors that slide on rails and save space. Swing doors are doors that are mounted on hinges and open inwards or outwards. Folding doors consist of several leaves that can be folded together and glass doors are doors that are made of glass and provide better light transmission.
What characteristics should a good room door have?
A good room door should be stable, secure and durable. It should be well insulated to minimise heat and sound loss. It should also be easy to open and close and have a good appearance.
---