Revolving or sliding door?
Griffwerk offers you both revolving and sliding doors. But what are the advantages of these door variants? We will help you decide:
Sliding door systems
Staging room transitions in a modern way.
Elegant and timeless: sliding glass doors are not just room dividers - they are design elements. To be more precise: the sliding glass door impresses as a filigree alternative to an ordinary wooden door. Compared to a wooden sliding door, a sliding glass door system impresses with light permeability and moisture resistance. With perfectly coordinated sliding door fittings from Griffwerk, e.g. in stainless steel look or luxurious black, they also create a real design highlight.
As a room door, the sliding door system with a sliding glass door brightens up the room and literally lets the sunshine in. In addition to their noble appearance, sliding doors also impress with their practicality: sliding door systems made of safety glass can be used not only indoors but also outdoors, e.g. as patio doors.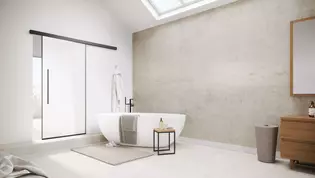 Space-saving miracle
In sliding door systems, the glass door is guided flat along the wall. It therefore does not require an additional swivel area in the direction of passage. This saves space and can even be the saving solution in some installation situations. However, sliding door systems are not only true space-saving wonders, but also real eye-catchers: With a sliding door system, you present your room transition in a completely new, modern look.
Renovation artist
What to do with old frames and unusual door dimensions? Sliding door systems master such situations brilliantly. They can be mounted over frames and are also more flexible in terms of the clear door opening. While glass revolving doors have to fit exactly to the millimeter, sliding doors allow more tolerance: The required 3 cm overhang must be provided. But it can also be more. For further installation tips, please refer to the installation instructions for the respective products.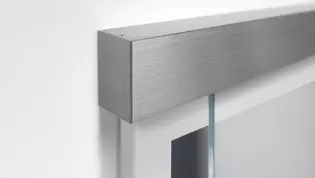 More comfort
Glass doors have never been guided so gently: The sliding door systems from Griffwerk feature a convenient soft closing mechanism. It is invisibly integrated into the guide rail and gently stops the door in two locking positions (closed and open). This means that the doors are guided along the wall in a way that is gentler on the glass and cannot roll or hit. Enjoy this plus in equipment.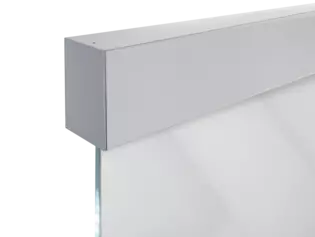 Advantages sliding glass doors:
Maximum room opening
New modern door look
Comfortable soft closing
Better load bearing of heavy doors
Threshold-free room transitions
Handle height can be flexibly positioned
Do not require a swing area
Save space
Mountable over frame
Easy mounting
---
Revolving door systems
The lighter alternative to conventional wooden doors.
More light living feeling
Fancy a new living ambience with light-flooded, open spaces? Then it's time for glass doors. High-quality glass materials and exceptional design not only make them real eye-catchers. Glass doors can do even more: They modernize floor plans, connect rooms and provide light.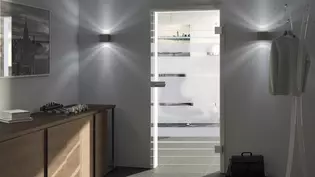 Quick door replacement
Existing wooden doors can be easily replaced with new glass doors. The dimensions of the new glass door must fit the frame exactly. Old frames can usually continue to be used, then only the hinge mount must be replaced with a few simple steps.
But please lockable
Glass lock cases for revolving glass doors are available as unlockable (UV), but also in lockable variants, e.g. with smart2lock, WC lock (WC), with pre-prepared opening for a profile cylinder (PZ) or with bunt-bit lock (BB). The latter two glass door fittings can be permanently locked from both sides with a key.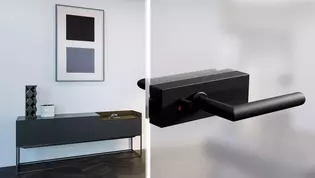 Noise, wind and emission protection
Hinged glass doors close more tightly than sliding doors because the glass surface of the closed door rests in the frame rebate. Noise and odors are thus shielded. Kitchen odors in particular can be kept away from the living area very well with closed glass revolving doors. In general, any air exchange between rooms is better prevented than with a sliding door. So if you want a vestibule that protects you from drafts, a glass revolving door would be a better choice.
Advantages revolving glass doors:
Lockable fittings available
Adaptable to existing frames
Easy assembly
Better sealing
More protection against emissions
Threshold-free room transitions possible
New modern door look
Three-part hinges against lowering the door
Well combined
Whichever system you choose - we cater to your individual wishes. At Griffwerk, you can get your desired decor for both hinged doors and sliding doors. Using state-of-the-art laser technology, we apply filigree lines and artistic textures that turn your sliding glass door or revolving glass door into an individual room divider. Choose between classic clear glass and impressive color variations such as our MOON GREY smoked glass. Whether kitchen, living room, bathroom or terrace - we have the right solution for every location. Wooden doors can also be combined. So that everything fits together, you will find the matching door handles for wooden doors here. Let us advise you individually and convince you of our high quality, e.g. via our dealer search.