The right material for every sliding door
Sliding doors are very versatile. The function and the place of use determine the material. Here you can find out which material is best suited where.
As a design element or completely hidden, as a "magic formula" for changeable rooms or as a space saver, as fire protection, thermal insulation, for security or as a gateway for magnificent floods of light: sliding doors are a good choice everywhere. The most common materials for residential buildings are wood and glass. In industry and commercial buildings and garages are also used sliding doors made of metal and plastic, while in homes these materials contribute more decorative elements.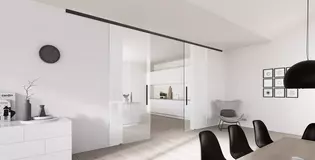 Exterior doors
Exterior sliding doors on residential buildings are in the vast majority of cases made of glass. Most often they are large patio doors. Thermal insulation and burglary protection are the most important factors here. Safety glass is therefore a must for exterior sliding doors. But the security glass alone does not make the door secure. To make life as difficult as possible for burglars, it is important that the door also has security hardware, drill-proof lock cylinders and sturdy locking hooks or deadbolts. A combination of these components can achieve resistance class 2: This buys them time while the burglar loses his nerve.
Thermal insulation can be achieved with two thermally separated profiles with good insulators between them, as well as optimal sealing. Our Griffwerk glass door experts will be happy to help you with the various options for seals and insulating glazing.
Interior doors
There are almost no limits to imagination when it comes to interior sliding doors. Whether the sliding door is installed in the apartment for the purpose of accessibility, to save space or for aesthetic reasons, it is necessary to make the decision between glass and wood. Wood is a warm material that blends well with "cozier" home styles such as hygge, Scandinavian style, country house or modern country, ethnic style and lagom. It is important that the wood of the doors matches that of the furniture. Wooden sliding doors are a decorative element that guarantees privacy and closes any room as one unit. Disadvantage: they do not let light through, so they are suitable only for apartments with large windows and an orientation with sufficient light incidence. Those who do not want to do without wood, nor light, can choose sliding wooden doors with light cutouts.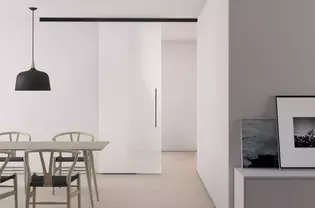 All-glass sliding doors are an excellent way to make narrow apartments appear larger and to flood light even into awkwardly located rooms. Whether the sliding door is meant to merge different rooms into one, or "just" serve as a window of light and maintain privacy, determines whether you should rather install a door made of clear glass or frosted glass. Glass doors generally fit all home styles. Here it is the hardware and decorative details that make the difference: black door hardware, surrounds and pilasters go particularly well with Industrial Style and Bauhaus, while very unobtrusive.
Glass doors with matte stainless steel hardware ideally fit into a minimalist ambience a boho apartment or even a home in wabi sabi style. But you can also use glass doors for the above-mentioned styles of living: Fittings in cashmere gray or with copper or brass inlays emphasize the rather warm character of Nordic styles, or the colorful character of ethnic style and modern living, respectively.
No matter what your style is, sound and heat insulation are always important. For this purpose, your interior sliding doors need perimeter seals, for example, brush or drop-down seals. Tightly closing sliding doors made of wood or glass reliably keep odors and sounds out of other rooms. In the case of sliding glass doors, they still allow the room to feel large, open spaces with lots of light. Regardless of whether it is an all-glass door or a wooden door with a light cutout, all Griffwerk doors are made of safety glass for safety reasons. This means that there is no risk of injury should the door ever break.