Wabi-Sabi: The purist living style from Japan
Purist and imperfect furnishings. The motto of Wabi-Sabi could be: Delight in the simple things.
Less is more: As with the well-known Hygge furnishing, there are no concrete guidelines for exactly how you should go about the Wabi-Sabi living style. Closely linked to Zen Buddhism, the Japanese Wabi-Sabi living style describes an attitude to life based on a mental concept of perception and beauty. The word "wabi" means sad, lonely or lost. "Sabi" means to be old or to pass away. The almost philosophical statement that can be interpreted into the words: Be aware of impermanence and appreciate the small and imperfect things. This is why the Japanese furnishing style is also called imperfect purism. The wabi-sabi style only became known in Europe in recent years. At the latest after the success of the Japanese bestselling author Marie Kondo, Wabi-Sabi also became known in Germany.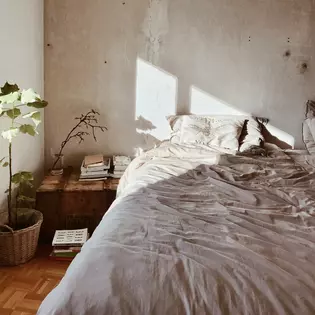 How do I create the Wabi-Sabi style of living?
Reflection on the essentials: Choose a few favourite pieces that you consciously use as furnishing elements. Do without anything superfluous.
Deco: It should be just as reduced as the selection of furniture in the room. It is not unusual for the few decorative elements to also play a useful role. In the Wabi-Sabi style, a floor lamp not only provides light but also serves as a visual highlight.
Materials: Naturally renewable raw materials have priority. Wood, cotton, linen or wool.
Colours: The colours in the Wabi-Sabi style are natural and muted. Beige, brown, grey, white and black are ideal.
Shapes: Flowing shapes as a starting point: Gentle organic shapes are preferable to straight strict lines.
Wabi Sabi Living Room
Ask yourself the question: What do I really need in the living room? Apart from a few decorative elements, you can do without everything else. A cosy sofa with a few linen cushions. A wooden table and a carpet in front of it. For the wall: A painting on canvas that you particularly like. For decoration: A large vase made of terracotta with bamboo sticks that is one of your favourites. The Wabi Sabi furnishings need no more. A huge living room wall, full of many things, is out of place here.
Wabi-Sabi style doors
Functionality and appearance: In the wabi-sabi style, it is widespread that decorative elements take on a functional part. Thus, doors are room dividers and visual highlights in one. A glass sliding door with discreet black bars with a door handle such as the PLANEO GS_49011 handle bar from GRIFFWERK is a wonderful match for the Japanese style of furnishing. Pivot doors made of glass or wood are also a good choice. The matching door handles should be kept in a simple design, just like the door itself. Handle shells such as the CIRCLE series or door handles from the AVUS series by Griffwerk also round off the minimalist style.