Order sliding door complete set online for every interior style
Sliding doors take up hardly any space and are therefore ideal for small rooms. A complete sliding door set with door, handle and track can be put together individually and matched to the living space: Whether industrial, rustic or modern elegant.
Complete sliding door set: combine door leaf, track and handle individually
Sliding doors consist of a sliding door leaf, a sliding door rail and sliding door handles. These can be individually combined as required to form a complete sliding door set. Griffwerk offers a wide range of options for complete glass door sets. For example, a small one-room flat can be divided into living and sleeping areas or the living space of a large loft can be better structured. In short: a complete sliding door set offers the optimal solution for every room and living situation.
Boho or industrial look? Complete sliding door sets for every living style
Whether it's tinted glass with a matt black track or a glass door with black pilaster strips that lends rooms an urban flair: with the products from Griffwerk, you can put together your complete sliding door set including door made of glass individually at your specialist dealer. Here we have summarised the most beautiful combinations for complete sliding door sets - for every style of living, individually tailored to your requirements:
Sliding door complete set for urban loft character: The PLANEO-LOFT sliding door model turns normal living spaces into an attractive loft. The fitted pilaster strips provide the typical industrial look. This includes, for example, the PLANEO 120 sliding door system in graphite black. Complemented by the PLANEO GS_49011 handle bar, the perfect complete glass door set for the trendy loft or urban boho look.
Sliding door complete set with door in classic style: Simple and timeless elegance is created by transparent or milky sliding doors. Depending on taste, the door can be combined with a large selection of door handles, for example supplemented with LUCIA handle bar and strip. Contrasts are created by sliding door systems in Graphite Black, which look perfect combined with Graphite Grey or Anthracite Black, while models in matt stainless steel look hardly stand out against the white wall - perfect if the doors are to blend inconspicuously into the room.
A complete glass sliding door set with typography and print elements is ideal for offices or, for example, a separate wellness area. The sliding doors then make a real statement - regardless of whether you opt for a sliding door with a pattern, photo or typography. Using laser technology, the Photoart glass doors are characterised by filigree gradations and an unusually spatial effect. Pictures and motifs work best with an unobtrusive sliding door system and discreet handles. If you would like to put together a complete sliding door set from Griffwerk, it is therefore best to choose models such as the PLANEO GS_49011 handle bar pair in a matt stainless steel look for large-format motifs.
To the complete glass sliding door set in 5 steps
The individual complete sliding door set is easy to put together in five steps. This way, you can easily match the sliding door, handles and tracks to your needs and living style - without compromising on design or function.
1. determine dimensions
Both door frame and ceiling height can influence the choice of sliding door. For those who want to use the entire room height - especially with high ceilings - opt for all-glass doors in special sizes. Specialist dealers then advise which sliding glass door systems fit best so that heavy doors do not sink later.
2. determine the type of mounting
Depending on whether the sliding door reaches up to the ceiling or closes off a regular passageway, different installation methods are available. For example, sliding doors can be mounted either directly on the ceiling or on the wall.
3. sliding door system and colour
The type of installation determines which sliding door system is suitable. Sliding door systems each contain the matching running track, the runner and the soft-close mechanism. For the complete sliding door set, you only need the door and the matching handles.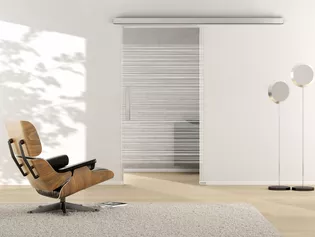 4. select sliding door and material
Sliding glass doors in particular are available in many versions in terms of appearance, design and function. While transparent glass doors divide living areas while maintaining the open room concept, milky glass provides more privacy. In a modern and minimalist interior, tinted sliding doors also blend harmoniously into the overall picture.
5. The last step to the complete sliding door set: Selecting handles
Finally, you need to choose the handles and the locking mechanism. You have the choice between handle bars and handle shells. For a uniform overall appearance, match the colour of the handles to that of the running track. If you want to lock the sliding door later, you can use locking systems such as PLANEO SMART2LOCK or PLANEO GS_49017. The systems then consist of a special sliding door system and the matching handles.