Back to the future: Art Deco interior
If you think the interior style of (great) grandma's time was old-fashioned and consisted only of rustic oak, you are far wrong. At the turn of the 19th century to the 20th century, a style emerged that reached its peak in the "Roaring 20ies" until World War II and is therefore also known as the "Jazz Age style": Art Deco.
Art Deco is a mix of styles based on Classical Modernism, and due to its many elements, it was not defined as a style in its own right until decades later. The spirit of optimism of the period is evident in the inspiration that the Art Deco style draws from both classical forms and modern technology.
The style encompassed all areas of life in the 1920s and 1930s: Architecture, furniture, jewelry, fashion, industrial design and art. What's fascinating about it is that the style is simultaneously glamorous and unfussy, clean and opulent, and it mixes European interiors with the styles and patterns of other cultures, such as elements with Egyptian, Central American, and African influence.
At the height of the Jazz Age, most Art Deco interiors were dark in color and used mostly marble, brass, chrome, and lots of mirrors. Furniture was often made of fine dark woods like rosewood and ebony, with smooth surfaces and curved but clean lines.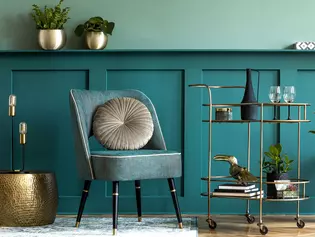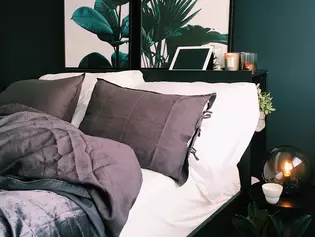 Even today, Art Deco revives again and again, for example, there are many "Art Deco hotels" for lovers of this style, or entire public buildings from this period, which have been preserved in this way, but also individual elements in private homes.
Today, many people like the shapes and patterns from this period very much, but the dark heaviness of the original less. Therefore, Art Deco fans today often prefer a style mix of bright rooms with Art Deco furniture, lamps, paintings and accessories, with brass as a standout identifying feature of the era.
Doors and fittings for a touch Art Deco
For a modern apartment in Art Deco style, you don't need rosewood, marble or dark walls - although one or the other wall in a typical Art Deco color like wine red, fir green or dark gray is a real eye-catcher. But even with a few other style elements, you can achieve a chic, modern Art Deco ambience.
Doors & Art Deco
Original Art Deco doors are eye-catching, made of dark, heavy wood and with geometric patterns and shapes and extravagant light cutouts such as ovals, circles or diamonds.
If you want to focus on the light and modernity of the apartment and add just a little touch of Art Deco, our all-glass doors with patterns in Art Deco design are the best choice: glass doors Deco 583, Deco R8 and Deco 655 are perfect eye-catchers for your modern apartment with Art Deco character:
Deco 583: Simple elegance with a touch of Art Deco flair. Your home will shine in modern light and the door will emphasize your Art Deco lamps, accessories or seating group in just the right dosage.
Deco R8: This glass design matches the typical wide Art Deco leather armchairs with clean lines, as well as large-scale Art Deco paintings or cushion designs.
Deco 655: Borrows from the ethno style and perfectly emphasizes furniture and accessories with curved lines.
If you want to put more focus on the original, you should go for wooden doors with light cutouts. You can have the light cutout decorated with a matching decor from our door catalogs or send us a personal design in Art Deco style. We will then print this design on your light cutout.
Art Deco & Fittings
Art Deco is known for striking, geometric shapes as well as the use of a lot of chrome and especially brass. Brass as a characteristic Art Deco feature should not be missing in any Art Deco room, whether as decoration on table and chair legs, as floor or hanging lamps, as picture frames on the wall or as bowls on the table - or even as door hardware. A wooden door with a light cutout, glass with Art Deco design and a brass door handle makes the Art Deco ensemble in your home perfect - and without any dark walls. Our favorites among the Griffwerk hardware for an authentic Art Deco style are:
Fabia and Fabio: In brass the absolute eye-catcher, who likes it a little more discreet, chooses chrome. The straight cone shape with round finish and decorative rings beautifully combines the beginnings of Art Deco with the traditional elements from the time before.
Marisa: This door handle in brass finish is the epitome of Art Deco aesthetics: it combines curves and simplicity, ergonomics and elegance is not too eye-catching, but it does not hide either.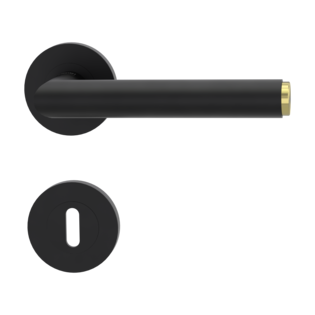 Lucia Select with copper or brass application: A subtle reference to the colors and styles of Art Deco, with a modern touch in graphite black. This door handle does not catch the eye, but fits harmoniously into any Art Deco interior.
If you need advice on furnishing in Art Deco style or other furnishing styles, we at Griffwerk will be happy to help.