What types of doors to what Living styles
There are different types of doors and different interior styles. Doors are large-scale elements that visually emphasize a Living styles, so it is important that doors and interior style match. You can find out which interior door suits which Living styles here:
Classic, modern or rather unusual: Doors fit harmoniously into the overall picture of the room and enhance the effect of the rest of the furnishing style. Optics and functionality combined: Depending on the use of the room and the space available, it is decided which door fits best.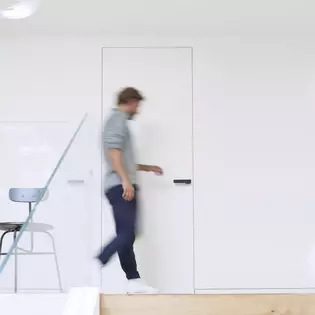 Hinged doors
Hinged doors are often the first choice when it comes to doors. Attached to one side of the door frame, they can be opened to one side. However, swing doors require a swing range, which must be taken into account. Impact doors are available in Wood, Metal, Plastic or Glass. They are available in various price classes and are relatively easy to install. The door leaves can be decorated with moldings or designed in different colors. In the case of a single-action door, for example, the door leaf can be framed with stucco-like moldings. Modern designer furnishings with straight lines are well suited with single-colored single-action doors or Sliding doors made of glass. In a rustic Living styles fits a natural Wooden door in the overall picture.
Sliding doors
The installation of a Sliding door, is useful in Width passages or in rooms where you do not have a swing area for a swing door. Sliding doors are usually made of Wood, plastic or glass. More rarely they are made of metal. In contrast to swing doors, Sliding doors are usually a bit more expensive. Installation is also usually a bit more involved - but with our Sliding door installation guide, it's still no problem. Sliding doors run inside the wall or the wall is retrofitted to cover the sliding door strips. A playful interior style, such as Country style, can incorporate the detailed ornamentation of the furnishings into the design of the door panel. Clear-cut furnishings can be rounded out with timeless door panel designs. Sliding doors made of glass are made of crystal clear white glass or dark colored smoked glass. White Satin frosted glass panels are often installed in bathrooms, as they are opaque and serve as privacy screens.
Folding doors
Folding doors belong to the category of Sliding doors. Like the Sliding door, they are slid on a Running track. During opening, the seperate parts of the folding door fold together like an accordion.
Hinged doors
Hinged doors are mostly known from saloons in western movies. They consist of two door leaves, each attached to the right and left of the door frame, and can swing open to either side. Usually they are made of Wood or plastic. A White Hinged door, with grooved texture, goes super with Country style. A Black swing door, with a smooth door panel, goes well with a designer Living styles. Typically, they are used as a visual partition of the room. Since they do not close tightly, they are great as a room divider for secondary rooms, such as the pantry or walk-in closet.