Minimalism - more than just a furnishing trend
What minimalism has to do with door and window handles? And what makes up the interior design style? Find out in our guide.
This is minimalism
According to the Duden dictionary, minimalism means "consciously limiting oneself to the bare minimum". In short: fewer possessions. Minimalism, however, is not just a passing trend - it is rather an attitude to life that also affects living. The word is often mentioned in connection with cleaning out, decluttering, getting rid of material ballast. One assumes bare, impersonal rooms that house only the bare necessities. But minimalist furnishing creates the opposite: by doing without useless objects and an excess of decoration, the trend puts the remaining elements more in the limelight.
Because contrary to what many guidebooks suggest, minimalism is not about reducing at all costs - instead, the minimalist focuses on conscious furnishing and putting aside superfluous items so that favourite pieces are shown off to even greater advantage. With our door handles and door fittings from GRIFFWERK, you can set subtle accents that do not distract from the essentials. We show you how to live and furnish in a stylishly minimalist way.
Minimalism - not a new trend
It is often assumed that minimalism is the answer to the modern consumer society. However, this way of life has existed for a long time and is based on a very old value concept of renunciation. Monks and nuns in monasteries have been practising a minimalist way of life for centuries. After minimalism conquered the visual arts, design, architecture and fashion were soon caught up in the trend.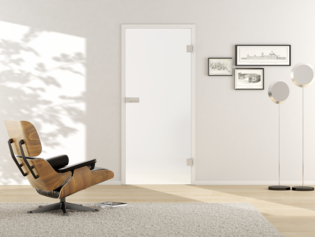 Minimalist living - functional and aesthetic
Minimalist home furnishings are based above all on the following principle: highlighting the essentials by stripping back and reducing the superfluous. The style is characterised by simple elegance, purist structure and order. The furnishings should be functional, yet as far as possible not distract from the few decorative elements. Subdued colours, clear lines and a well-coordinated mix of structures: this is what living as a minimalist means.
In general, minimalist furnishings can be combined with any other style of living - whether industrial style, maritime or Scandinavian.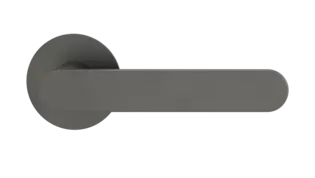 Colours and forms of minimalism
The colours and shapes in the minimalist home follow a central concept: avoid unrest and do not distract. Simple shapes and neutral colours are matched to create a harmonious ensemble. Unagitated designs round off the concept.
Minimalist furnishings inspire above all with non-colours such as white, grey and black in muted tones. The walls are often painted in light shades of white, grey or beige. Decorative elements and furniture complement the ensemble and come into their own either tone-in-tone or through strong contrasts. Real colours such as red, yellow or blue should be used sparingly. They come into their own particularly well when one central rule is followed: Concentrate on one bright colour per room. A turquoise flower vase, for example, shines particularly brightly when it is placed on an anthracite-coloured side table.
Door handles and door knobs from GRIFFWERK are available in subtle non-colours and perfectly complement a minimalist interior design - for example, our LUCIA PROF door handle set in elegant graphite black or the CUBICO PIATTA S QUATTRO door handle in matt stainless steel.
True to the motto "less is more", minimalist living relies on clear lines and simple designs. Basic geometric shapes such as lines, spheres, cuboids and pyramids combine to create a harmonious, unadorned image. Whether in the house, flat or garden - the all-glass doors from GRIFFWERK are also unagitated, functional and modern. With their diverse design options and a wide range of colours, they are a stylish addition to any minimalist living space - for example, our satin all-glass door FROSTED 819 made of toughened safety glass in the colour PURE WHITE. Do you love anthracite and grey tones? Then we recommend our SMOKED GREY 510 glass door in the shade MOON GREY.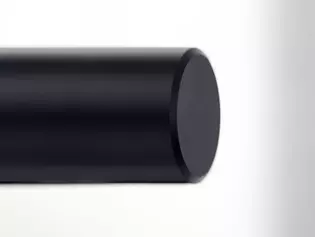 Minimalist furniture and decoration
Furniture and decoration also remain reduced to the essentials in minimalist living. Particularly typical for a minimalist living room: furniture made of geometric shapes standing on wooden or steel legs. A grey armchair consisting of a semicircular seat shell on black steel legs - a classic image for minimalist furnishing. The furniture should therefore already be minimalist in itself, correspond to the colour scheme and combine clear lines and shapes.
Smooth or matt surfaces made of chrome, stainless steel, wood or glass, e.g. on tables, chests of drawers, worktops or panelling, dominate the minimalist furnishing style. In the GRIFFWERK range, too, you will find plain door handles, lever handles, window handles, door fittings and glass doors that are perfectly coordinated. Whether matt or glossy, grey or black - our GRIFFWERK products harmonise perfectly with each other and are available in many colours and shapes so that you can furnish your home uniformly and in a minimalist style as you wish.
When it comes to decoration, the rule of minimalism is: a few high-quality individual pieces instead of lots of junk or even flashy knick-knacks. Moreover, the decoration should not take over the room. It can be an eye-catcher, but should not overwhelm the observer. The accessories you choose to decorate with are up to you. The above-mentioned colour codex still applies: set accents with only one bright colour per room.
The same also applies to plants: Green plants are particularly popular with minimalists. But here, too, you should reduce the number of plants so that your living room does not become an impenetrable jungle. Interior experts recommend placing small groups of three plants each. Succulents are particularly suitable plants, but palms or cacti are also suitable.
Minimalist furnishings, but too much stuff? Stow away superfluous things in a cupboard! An elegant chest of drawers or a cupboard with plain cupboard doors not only offer storage space, they also give the impression of structure and order to the outside world - provided the drawers and doors are closed and opaque. Open shelves and display cabinets can quickly give the impression of clutter and visually overload the room - the minimalist therefore avoids these pieces of furniture.
Minimalist furniture does not have to be uncomfortable. This is especially true for seating furniture: a mix of different structures creates separation, while the right fabric or material ensures comfort and convenience.
Minimalist living with GRIFFWERK
Minimalist furnishing is easy with GRIFFWERK products. Our door handles and door fittings are available in many plain colours and surfaces, e.g. stainless steel matt or glossy.
In addition to the right door handle, the matching door is also crucial. For a minimalist home, we recommend glass doors. They let light through and do not burden the room with additional colour. Discreetly coloured, a high-quality glass door from GRIFFWERK can enhance the room without visually overloading it. Our all-glass doors are available with toughened safety glass or laminated safety glass, in various designs and colour variations.
The matching handle and door fitting complete the overall picture. Since we at GRIFFWERK only use high-quality materials, you can look forward to a long service life in addition to a harmonious appearance.
Tip: You can sort our door handles by living style and find the right minimalist handle for your house or flat!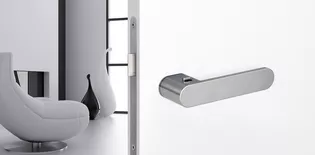 ---
The most frequently asked questions about minimalism
What questions are most often asked about minimalism? We found out using software that analyses which questions people ask voice assistants from Apple, Google and the like. We answer two of them here:
1. Which door handles suit the minimalist interior style?
Simple shapes and colours are characteristic of the minimalist furnishing style. Door handles in silver, black, anthracite or white are discreet colours that go well with minimalism. The shapes of the handles are also simple and without frills.
2. Which doors go with minimalism?
Smooth and single-coloured door leaves are preferable to elaborately decorated doors. Hinge doors made of wood or glass: Both are suitable in minimalism. A sliding door made of glass is a discreet visual highlight in the room.