More privacy protection?
Matt glass doors provide more privacy
Float glass is clear and transparent in itself. By means of finishing processes, such as ceramic screen printing, the surface can be frosted and thus offers more privacy. At Griffwerk, you can order most decors optionally with a fully frosted reverse side for more privacy.
Clear or Matt?
During frosting, the surface of the glass is roughened to a microfine finish. This changes the light reflection. The incident light is scattered more strongly. The glass itself appears whiter and screens gazes better. So if you want more privacy protection for your glass doors, you can select the "frosted" option in the "Opacity" product filter.
---
Privacy and space planning
Depending on the floor plan and entirely on your ideas, frosted privacy doors may or may not make sense. We have put together a few ideas for your room planning here:
Free sight for the beautiful views
"Privacy screen no thanks," you will say when a door blocks the most beautiful view. For example, this may be the view from the next room to the relaxing garden view or the illuminated skyline. You may also not want to deprive yourself of the view of the newly renovated bathroom from the bedroom. In general, it can be said that transparent doors "open up" rooms more. Floor plans appear visually even more spacious. Longer lines of sight are possible. Another rule of thumb: The fewer residents share an apartment or house, the less need there is to separate private areas.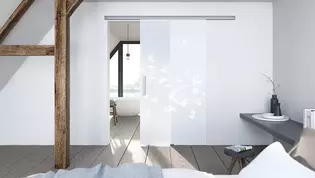 More privacy desired?
Frosted glass door gives you more choice. Especially with bathrooms, people are happy to have privacy, especially if guests are ever visiting. How much privacy you want is ultimately a personal decision. One thing is certain: If you love glass doors, you don't have to do without privacy.