How Glass doors in offices influence the working atmosphere
To turn an office into a place where employees like to come, even if they have the option of working from home, where thoughts flow and ideas emerge, you need a certain atmosphere. To achieve this, you don't have to reinvent the wheel or relocate. Sometimes even small changes can help, such as new doors. Made of Glass.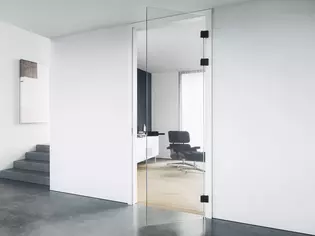 Transparent and quiet: Hinged doors made of clear glass
Back to the office floor described at the top. Imagine if all the doors in the corridor were replaced by clear glass doors . Suddenly you would no longer only see colleagues in the coffee kitchen or in meetings, but in passing or from the opposite office. You can see who is there and greet each other with a hand signal through the closed door. Anyone who has a question or would like to pop in can signal this. If you would like the person in the corridor to come in briefly, you can also signal this easily. And who doesn't want any contact? Put on headphones or immerse yourself in your work without looking at the door. Concentration is not a problem, as Hinged doors made of Glass are just as soundproof as Wooden doors.
Another advantage: Natural light shines into the hallway from the office windows. This makes the hallway appear wider, warmer and friendlier. Even when you have a lot to do and are only passing through for a short time. This small detail can subconsciously lift the mood considerably and thus contribute to a more relaxed and friendly working atmosphere.
Bright and undisturbed: Satin frosted Glass
Not everyone needs to see heated debates in meetings, and you also feel more comfortable at the annual meeting with your superior if not everyone can see your facial expressions from the corridor. Rooms where privacy is important can keep the Wooden door during a renovation.
However, you can also install a door made of Satin frosted or partially Satin frosted Glass. Firstly, this fits in better with the overall look and secondly, it conveys a feeling of innovation and lightness.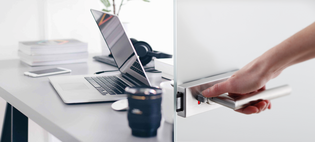 CI in view: Glass doors with logo
The entrance door to an office department or office floor is like a business card: a massive oak door looks very traditional and serious, but can also be intimidating. A Glass door , on the other hand, signals: "This is a transparent and modern place. Visitors, applicants and customers are welcome here." None of this should be without the company logo, especially in the entrance area. It acts as a signpost, welcome and advertising medium all in one. But the logo also has an effect on Glass interior doors, even if you think you don't really notice it in everyday life: If it were missing, something would really be missing. This does not mean that every office door needs a logo. However, a few per floor, for example on meeting rooms and passage doors, subtly remind people of the corporate identity. In combination with Glass, the company logo takes on positive attributes such as lightness, light, transparency and openness, which can have a positive effect on the overall mood.
We will be happy to inform you about the various methods of applying your desired logo to a Glass door. Be it a Satin frosted logo on a clear door or vice versa. Color printing is also possible.
Creative and flexible: Glass sliding doors
With or without a logo, as an office door or for a passageway: Sliding doors made of Glass are an ideal choice for open, wide-open offices that are designed to encourage collaboration and creativity. Glass sliding doors have two major advantages in offices: Models with multiple panels can be very wide, allowing for a very flexible office design: need a large space where energy can flow and everyone can be in contact with each other? Glass sliding door open. Holding a training session or meeting for a few hours? Glass sliding door closed. The required area is partitioned off while creativity continues to flourish outside. Silence for the temporarily separated area is also easily possible with a tightly closing sliding door made of Glass. Glass sliding doors are particularly suitable for modern buildings designed for open-plan offices. But you can also break up the traditional arrangement with corridors and office doors on the left and right with Width Glass sliding doors or even transform them into a kind of open-plan office light. In this way, light, lightness and togetherness can be introduced.