Living like globetrotters
What is the Ethno Style?
Ethno style is a colourful mixture of everything that is imagined in the western world under the style of foreign peoples. It came into being in the 1960s when the first world travellers and hippies returned with accessories, decoration and clothing full of exotic patterns and materials from all corners of the globe, first spicing up fashion and then also the home. Style elements from the most diverse continents can certainly stand side by side in one room.
Ethno style does not claim authenticity, even if some people use genuine elements from one culture or another. Incidentally, the term "ethno" comes from the ancient Greek word for people, "ethnos".
How do I create Ethno Style?
Patterns and colours
The ethno interior style is a style for people who like colour and like to combine different patterns and materials. Animal prints make you think of Africa. Colourful ikat patterns look modern. Asian and embroidered flowers create an ambience like in South or Central America. Everything the world has to offer in terms of patterns has been incorporated into the ethnic style.
This means that all colours are "allowed". If you like it warm and cosy, combine earth tones and warm colours. If you want to evoke a marine feeling of freshness, reach for ikat in blue and green, for example - anything goes in Ethno Chic.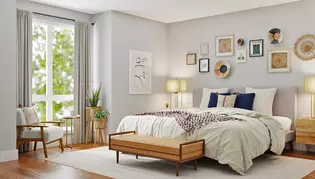 Material
The ethno style is characterised by natural materials. Depending on the budget, polyester cushions, synthetic fabric and plastic decorations are also used, which only have patterns in the ethno look. But those who want to do it "right" help themselves to nature - just like the peoples from whom the first trendsetters copied. A surface of wood or stone, details of leather and grasses as well as walls in earthy colours or even bright colours contribute to the Ethno ambience. Cushions and blankets can be made of cotton or wool. More exotic wool such as llama or cashmere gives the room a noble touch. Accessories such as vessels, boxes, vases, lamps or bowls in the Ethno Style are made of wood, clay or grasses and can contain details such as mother-of-pearl, inlay work or pressed leaves and flowers. Metals also feature in the Ethno Style, but not in every form. Copper and brass, preferably hammered or with patina, fit particularly well.
Ethno accessories
A flat in ethnic style can, but does not have to be completely colourful. This style lives above all from the accessories: an oriental lamp here, a colourfully woven carpet from the Andes there, animal figures or wooden masks on the wall and an Asian-looking fruit bowl made of grasses on the table. With a few highly visible accents in the right places, you can create a chic ethnic look even if the house is otherwise predominantly furnished in white or muted colours. Many people who actually have a different interior design style combine it with effective design elements in the Ethno Style and thus create an individual living ambience.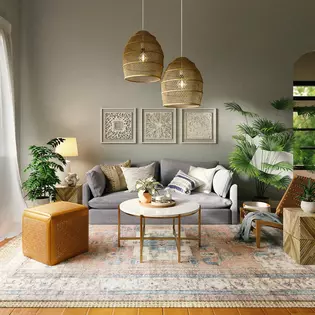 Griffwerk - Elements that match Ethno
At first glance, natural materials and very bright colours are not what you are looking for at Griffwerk. However, it all depends on the skilful combination: With Ethno, depending on the choice of accessories and fabric, you can create a warm, cosy or a fresh, modern ambience - or you can combine both. In any case, the focus is on closeness to nature and a pleasant feel.
All Griffwerk door fittings in CASHMERE GREY and GRAPHITE BLACK therefore go well with the Ethno Look. The choice of shape depends on the ambience: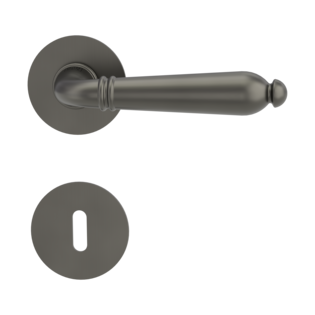 Floral or flowing patterns are the ideal combination for the fittings in the LUCIA range or the CAROLA PIATTA S door handle with its conical handle and beautiful round decorative applications.
The AVUS SERIES combines round and straight-lined elements, making it particularly suitable for an ethnic interior that mixes deco from all over the world.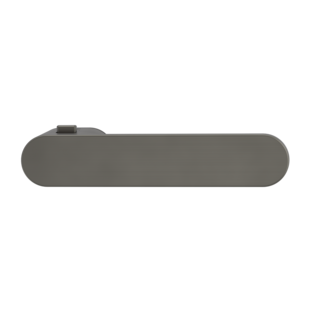 COPPER or BRASS match the Ethno Style perfectly. For sliding doors, the PLANEO GM 49111 handle shell in copper and black or brass and black is therefore the ideal choice. The LUCIA range offers beautiful door handles with discreet but effective copper or brass inlays.
And which door matches it?
Natural light goes well with the Ethno Style, so glass doors are a good choice. A door made of clear glass or slightly frosted glass without a design stays in the background and lets the decorative elements have all the attention. However, if you also want to set matching ethnic accents with the door, the glass doors of the NATURE range with a fine grass blade pattern, the BIRDS door in combination with floral decorations or the DECO 655 glass door matching ikat patterns are suitable.
Of course, we are also happy to apply your own ethnic pattern or photo to your Griffwerk door.