The right handle for every Glass door - Colors and materials in trend and what they go with
Glass doors are a design element - even when you install them so that None can be seen. Whether Hinged door or Sliding door: Whether the Glass door should blend in unobtrusively or is a real eye-catcher, decides in addition to glass type and the design - the door handle.
In general, the more classic the furnishings, the more curved or ornate the Door handles that match. Accordingly, also: the more modern, the Clear-cut or even more angular the form. In between, there are all kinds of gradations, such as the Nordic furnishing styles or even Country Light and Ethnical Style. Most people don't have THE one interior style at home, but live in a mixed style that tends in one direction or another.
To learn how you can subtly influence the ambiance of an entire room with the right choice of Door handles, click here.
Graphite black: Timeless and stylish
Black is something of a "number safe" when it comes to Door handles: On the one hand, they are an eye-catcher because they are quite rare compared to other options. On the other hand, they don't go out of fashion. Just like the "little black dress," black door handles stand for timeless elegance with a modern touch. How modern, then, determines the form. But also rounded forms with decorative applications, such as our model CAROLA PIATTA S gives a cozy ambience in Country style the "certain something", the small portion of modernity that makes it something special. Door handles in Graphite black, however, do particularly well in interiors with a "clear edge", e.g. in Industrial style or in minimalist furnishings with strong contrasts. Clear-cut models such as REMOTE, R8 ONE, AVUS or FRAME go best with these.
Cashmere grey: Warm and cozy
The Cashmere grey from Griffwerk is something like the more inconspicuous little sister of Graphite black: Due to less contrast, it jumps less into the eye and therefore leaves the stage to other elements such as Furniture, cushions, curtains and Deco. At the same time, it is a warm Grey, so it exudes coziness and comfort. Depending on the form, Cashmere grey can be used to create a very modern to futuristic look that nevertheless does not appear cold (e.g. with the models of the SIEGER DESIGN and R8 ONE series) or to let coziness and nostalgia prevail (e.g. CAROLA PIATTA S, AVUS or REMOTE). Door handles in Cashmere grey go particularly well with Scandinavian style interiors such as Hygge and Lagom, Ethno style, with Romantic, French and Mediterranean Living styles, Country House (light) as well as Coastal Granny and all the many "real" interiors that lie somewhere in between.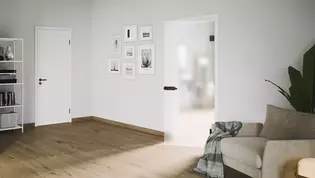 Satin stainless steel: Clear-cut beauty
Door handles made of Satin stainless steel exude modern simplicity. The matt finish gives rooms a contemporary elegance and a subtle but refined appearance. As a result, they go well with modern, minimalist interior styles and those that appear more low-profile, such as Lagom or Scandinavian-modern. Satin stainless steel looks best on Door handles with clear-cut lines and straightforward aesthetics, as the two together nicely emphasize ideas of modernity and simple beauty. Since a Door handle or door bar made of matt Stainless steel blends relatively unobtrusively into the overall look of the room, you can combine it with a great many Colors and designs. Despite its relative inconspicuousness, Satin stainless steel brings a touch of luxury and contemporary sophistication to the room.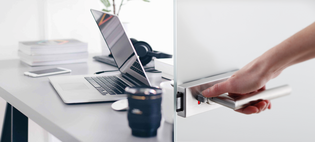 Copper: Rustic and cozy
Copper plates on shelves, copper decoration and copper kitchen utensils we involuntarily associate with the "good old days". Door handles with copper details emphasize this, even in modern surroundings. For example, Door handles with copper applications, such as Lucia Select Copper, give rooms a rustic charm, a warm atmosphere and a touch of vintage. In modern interiors, copper details such as Door handles add contrasting accents and convey a touch of nostalgia. At the same time, Copper is very versatile and allows you to combine it with different Colors and styles. Door handles made of or with Copper go particularly well with Country style, Modern Country, Shabby-Chic and Coastal Granny, as well as with Ethno style and in a minimalist interior with a nostalgic touch.
Brass: traditional shine
Brass is vintage. With or without patina, brass handles give your home a classic look and a welcoming atmosphere. In modern furnished homes, you can also conjure up a little touch of vintage with brass applications on modern, e.g. black, handles or subtly create the perfect match with brass mirrors, lamps or decoration. An example is our popular Lucia Select handle with brass application. Brass handles like our ALINA model and Door handles with brass applications are THE choice for Art Deco style homes. But they also go very well with French style apartments and of course with retro style. Those who like it romantic or colorful are also well advised to use brass.
Wood: Nature in the house
Door handles made of wood or with wood applications exude natural warmth and coziness. They are ideal for country and Nordic interior styles, but also for everyday mixes with warm, modern wooden furniture that we can find in any apartment. Since wooden elements are present in most rooms, Door handles made of wood fit well into the overall picture and can be combined with almost all Deco and utility items.
Crystal: luxury and elegance
An option for that special touch of elegance are Door handles made of or with Crystal. The sparkling crystals create a luxurious and refined atmosphere and therefore fit especially well with opulent interior styles and Art Deco. But even in a minimalist design interior, a Door handle with crystal application can conjure up a touch of luxury and sophistication. In terms of color, crystals can be combined with anything.
The best option for "blend-in
So with different Door handles you can emphasize different styles or create atmospheres. Sometimes, however, the highlight of Glass doors is precisely that they should be as invisible as possible, so that the room itself or wall colors, Furniture and Deco are the protagonists. Then you need Door handles or door bars that blend into the overall picture as unobtrusively as possible. For Sliding doors then handle shells are the best option, because they are small and hardly noticeable. For Hinged doors, it's best to choose designs without a door plate so that as much of the visible door surface as possible is glass. In both cases, we recommend Satin stainless steel as the most unobtrusive option that can be combined with just about any Color and style.
Our Glass door experts will be happy to advise you.
Selection Griffwerk handles for Glass doors