Savoir-vivre: the French style of living
Savoir-vivre literally means "understanding how to live". In Germany, the term is used in connection with the art of living and stands for the French way of life. The interior style can be wonderfully combined with individual modern furnishing elements. We show how.
Savoire vivre style colours and shapes
The furnishing style in Parisian chic is mostly rather simple and kept in warm colours. White, grey, natural and pastel shades predominate in the French style. A few coloured furniture or decorative elements add visual highlights. An armchair in subtle ochre yellow, a canapé in noble Bordeaux, turquoise, moss green or royal blue are real eye-catchers among the otherwise inconspicuous colours. Paintings also play an important role. Large works of art and mirrors with golden or simple ornamental frames are eye-catchers in the room. The walls are white or in pastel shades. The furniture is made of dark ornate solid wood and sets dark accents. Antique furniture with elaborate ornamentation goes wonderfully with the stucco ceiling in rooms with high ceilings. A magnificent chandelier illuminates the room in style. The shapes are organic and playful. Hard lines are reduced to a minimum. A seating corner with romantic bistro furniture brings Parisian café culture into your own four walls. Furniture and decorative elements are stylistically coordinated. Windows and doors also match each other in terms of design. Golden fittings: Window and door handles are preferably in gold. Suitable door handles for swing doors by GRIFFWERK are the golden AMADEUS or MARISA model. Sliding doors are set off particularly appropriately with the golden round PLANEO handle shell.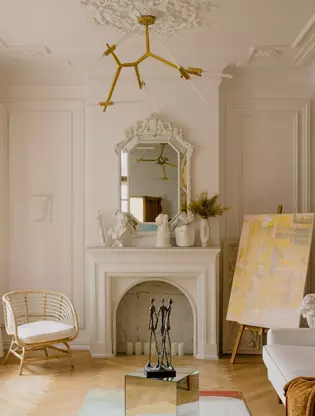 Fabrics and materials in the French living style
The savoir-vivre living style relies on high-quality and noble materials and fabrics. Chairs and armchairs are upholstered in soft velvet. Floor-length and heavy brocade curtains with golden patterns, provide a noble frame for the windows. Solid parquet flooring, with its charismatic wear, lends a historical atmosphere. A large Savonnerie rug perfectly completes the savoir-vivre style floor design. The dark wood of the furniture creates a cosy atmosphere. The material of the furnishings is predominantly wood. Large wooden casette doors are typical of rooms in old buildings. A break in style with modern elements combines the traditional look with contemporary design. Wood and glass: Sliding doors made of glass are timeless and also fit into playful interiors, such as the savoir-vivre style of living. With a sliding door made of white glass or smoked glass, the room remains flooded with light. Matching door fittings round off the perfect overall picture. Wood, plastic or stainless steel: door handles are available in a variety of materials. The PLANEO handle bar from GRIFFWERK is a simple door handle variant that can be combined with many different furnishing styles.