Scandinavian furnishings
What makes up the Scandinavian living style? Our guide shows you how to bring the Nordic lifestyle into your own four walls.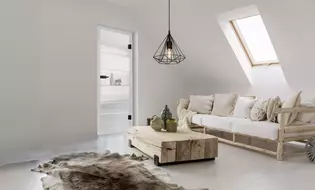 The Nordic look is like the Scandinavians themselves: close to nature. Natural wooden floors, mostly in rooms with lots of natural light. Warm light is used for artificial lighting. Simple colours in white, cream, grey and pastel shades dominate the reduced, open style. Furniture is usually placed in the centre of the room instead of against the walls. The entire furnishing is open and free. Decorative items never appear overloaded. Because with the Skandi style, less is more! The pieces of furniture not only serve functionality - they are often an important part of the room design themselves. Living rooms furnished in Scandinavian style appear very organised and tidy. Small flats in particular benefit from the Scandinavian living idea: small rooms appear more open and larger. Clear lines round off the modern, clean look perfectly. Scandinavian living means living simply without sacrificing design and cosiness.
---
Scandinavian chic - natural materials provide the cosy holiday home feeling
Scandinavia: Fairytale forests surrounded by fjords, mountains and lakes. Scandinavian nature also characterises the furnishing style of the Nordic people. The emphasis is on the use of high-quality natural products: lots of wood, cotton, leather, linen, fur or even stone. Furniture and also the floor are often made of wood and provide the typical Scandinavian design. Warm, natural colours and organic shapes are used in furnishing. Unagitated graphic patterns and elements in the Nordic style serve as decoration ideas. Elements made of glass are also conceivable, as they underline the light-flooded Scandi style. A sliding glass door can be just as suitable for the timeless style of living as a rustic wooden door. A sliding glass door fits in well with the open Scandinavian living concept. Door handles from GRIFFWERK such as the LUCIA GST door handle bars or the PLANEO GS_49011 handle bar make the glass door an eye-catcher.
---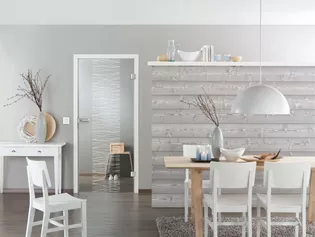 Nordic Living - Minimalist Design and Clear Shapes
Soft colours and clear shapes are typical for implementing Scandinavian living ideas. In Nordic homes, the colours are usually kept simple and natural. Tones of white, grey, cream or delicate pastel shades are predominantly used to create the Scandinavian style. However, bright and expressive colours can also be used to create targeted contrasts. Black colour accents offer support to the eye and ensure a harmonious interplay with the other colours. An example of the Scandinavian living idea: in a cream-coloured wooden kitchen, install black kitchen fittings with clear shapes. This sets visual accents. With matching black door fittings, the various elements can be perfectly coordinated. Here, too, ornate design is dispensed with. All living room elements have clear lines and shapes, which thus integrate ideally into the rest of the room. A high-gloss look is avoided. Door handle sets, such as LUCIA PROF in grey-black, are a good choice for implementing the Scandinavian living idea.
Would you also like to furnish your home in a Scandinavian style? Wide wooden floorboards, a chair on which a cosy fur lies. It doesn't take much to transform your house into a Nordic home.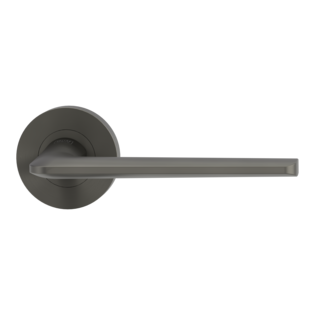 The most frequently asked questions about the Scandinavian style of living
Which questions are most frequently asked about the Scandinavian living style? We found out using software that analyzes which questions people ask voice assistants from Apple, Google and co. We answer two of them here:
What makes the Scandinavian style of living?
The Scandinavian interior style is bright and reminiscent of a typical vacation home in Sweden. Less is more: a lot of wood and natural materials make the Scandinavian country house style perfect.
Which door suits the Scandinavian style of living?
The Scandinavian living style is very close to nature. Light wooden doors and plain glass doors go wonderfully with the rest of the interior.