All-glass doors: Modern interior doors for a sense of well-being
Functionality and design: all-glass doors provide modern room partitioning with the feel-good factor. Different types of glass and doors offer a wide range of possibilities. We present them here.
Small rooms, big effect: the translucency of glass ensures maximum light incidence and well-being in the room. Small rooms in particular appear brighter and larger. Single-action doors, all-glass sliding doors, all-glass folding doors and all-glass doors are available in many different variations. A mix of materials is also conceivable. For example, the all-glass sliding door can be fitted with wooden struts and provide visual highlights. They go well with natural furnishing styles or minimalist designs. All-glass doors look timelessly modern and harmonise with different living room concepts. All-glass doors go just as well with a rustic interior design as they do with a playful country house style. Depending on the size and use of the room, different types of glass and door constructions are suitable:
All-glass sliding doors
All-glass sliding doors do not require a swing area, as they are slid open and closed horizontally. All-glass sliding doors let rooms shine particularly open and bright. They are particularly suitable as room dividers for rooms with high ceilings. Rooms with little space also benefit from sliding doors, as the swing area of the door is omitted and can be used as living space. Unfortunately, it is not possible with Griffwerk products for the door to disappear into the wall or an attached box system when it is pushed open. Nevertheless: Open living concepts can be implemented particularly well with all-glass sliding doors. A somewhat modified form of an all-glass sliding door is the all-glass folding sliding door.
All-glass hinged doors
An all-glass hinged door is the classic type of door. It is firmly anchored on one side of the door frame with hinges and is hinged, so to speak, to hold the door in place. A glass swing door is the perfect solution for bright and friendly rooms with a feel-good character.
Sound and heat insulating
Work undisturbed or relax without noise: Only with good sound insulation do rooms become the perfect place of retreat. Especially when several people follow different daily routines, problems can arise. To avoid this, you should pay attention to the appropriate sound and heat insulation when selecting doors. The PLANEO AIR SILENT system from Griffwerk is ideal for this: this all-glass sliding door system, specially developed for Griffwerk, closes tightly. It reliably keeps both sound and draughts out. PLANEO AIR SILENT keeps absolutely tight thanks to almost invisible rubber lips on the sides. The advantage of PLANEO AIR SILENT: you can retrofit this innovative system from Griffwerk very easily and without a special frame solution. PLANEO SILENT is therefore also well suited for renovations.
A soft-close system lets the all-glass sliding doors from Griffwerk fall silently into the lock and protects them from a hard impact.
You can even lock PLANEO SILENT sliding doors from Griffwerk: The matching PLANEO smart2lock handle bar enables problem-free locking and opening using infrared technology.
Glass types for all-glass doors
Safety glass
Doors and windows made of glass are constantly in motion. To prevent the risk of breakage of the glass panes, we only use safety glass at Griffwerk. There is TSG ("tempered safety glass") and LSG ("laminated safety glass"). As the name suggests, TSG glass consists of one pane of glass. Laminated safety glass consists of two or more panes glued together. If a safety glass pane breaks, it disintegrates into many small rounded pieces of glass without sharp edges. Glass doors from Griffwerk therefore pose no risk of injury - not even if, contrary to expectations, they should break.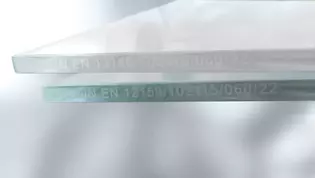 White glass and coloured glass
In the Griffwerk catalogue you will find the two qualities BASIC GREEN and PURE WHITE for doors. Our classic BASIC GREEN is made of green glass, as is the majority of all windows. This glass has a slight green tint because it contains a small amount of iron oxide. This is not visible when looking through a window pane from the front. The greenish tinge is only clearly visible at the edges of the glass.
Completely transparent, on the other hand, is white glass, available from Griffwerk under the name PURE WHITE. In this type of glass, the iron oxide components have been removed and the greenish shimmer is not present. Griffwerk doors in PURE WHITE quality bring the brightest light into your rooms!
Coloured glass in all-glass doors can be used well to play with the incidence of light in rooms. Smoked glass is grey and darkens somewhat. Frosted glass is milky and opaque. Sandblasting the glass pane or etching it creates the satin finish that allows absolute privacy. Decorative embellishments on all-glass doors are also possible with it. Lettering, patterns or combinations of clear glass and frosted glass can be individually implemented.
Maintenance of the all-glass door
All-glass doors from Griffwerk are durable and easy to clean. They can easily be wiped clean with a damp cloth to remove fingerprints and dirt. Clear glass doors require slightly more care than frosted glass doors, as fingerprints are more noticeable on transparent glass than on satin glass. Check sealing systems such as PLANEO AIR SILENT regularly for dirt deposits. If dirt collects on the rubber strips, the doors may no longer close completely tightly. Also wipe the rubber strips with a damp cloth. Caution: To avoid attacking the rubber and the surface of the glass pane, water with a little washing-up liquid is sufficient.