Industrial Style: Living in Loft Design
Rustic industrial chic for individualists: rust and used look, instead of new and high gloss
Untreated wood, exposed pipes, unplastered walls and concrete floors: The trendy furnishing style looks rough and does without frills. Everything looks used and unfinished. In large open loft spaces, the industrial look can be achieved with just a few design elements. It is not uncommon for large loft spaces to combine kitchen, dining, living and bedroom in one room. Perfect room dividers in this look: full glass walls with sliding glass doors. But even small rooms become visually industrial with selected furniture and matching decoration.
Materials and colours in industrial design
The industrial look uses a mix of materials: Solid wood, steel, leather, bricks and concrete. This gives industrial design a homely atmosphere. Modern and vintage: Old, used objects are combined with new elements. Rustic yet elegant; cool and warm colours: Industrial style thrives on combined contrasts. A large table-like solid wood table made of untreated wood and heavy, black metal fittings can be optimally combined with designer chairs. Perfect for this: doors with black fittings and loft door systems such as Planeo Loft by Griffwerk. This creates the typical factory charm. Colours are used in a rather reduced way - but combined: Cool with warm colour tones. White, grey, black, pastel and earth tones predominate to bring out the authentic industrial design.
Industrial Style in the Living Room - Industrial Chic in Just a Few Steps
High ceilings, an open and bright room concept: a typical industrial-style room is mainly large in the first place. It is not separated by room walls, but divided into different living areas. The essential living element in the living room is the sofa. Ideal for the factory look: a lush, solid couch. This is preferably made of coarse leather - preferably with a worn look.
Bedroom - Embedded in the Industrial Style
The bed is the essential element in the sleeping area. A high, wide box spring bed fits in perfectly with the style. Steel bedsteads are just as conceivable as a mattress placed on flambéed Euro pallets. Carpets with modern, simple patterns provide additional cosiness.
Partition wall and sliding door systems are ideal for separating rooms with high ceilings from the sleeping area. Elements made of solid glass support the clean style. Clear glass panes or frosted glass: GRIFFWERK offers different variants. There are also several combination options for window and door handles - black window handles fit best.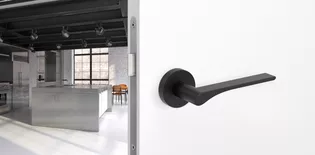 Factory chic: making perfect use of space
In general, it is advisable to avoid small inconspicuous pieces of furniture and decoration. Otherwise, elements that are too small get lost in the large rooms and do not offer any visual support. So it is better to decide against a small table lamp and go for a large floor lamp made of black steel. Overall, the number of pieces of furniture is reduced, but each individual piece makes a statement. Bar furniture is also a good choice for seating. High ceilings literally cry out for large ceiling lamps. Iron tubes can serve as coat racks. They are attached to the wall or hang from the ceilings into the room.
Wardrobes and decorative objects in loft character
An old solid wood apothecary cabinet with black cast iron handles. An old discarded workbench with metal inserts and worn wooden surface. A bookcase made of heavy metal frame with solid wooden shelves, optionally worn or dark flambé. Good examples to bring the popular industrial look into your own four walls.
There are countless ways to bring the industrial loft look into your own four walls. A mix of styles is also conceivable. But the following always applies: reduced and clean.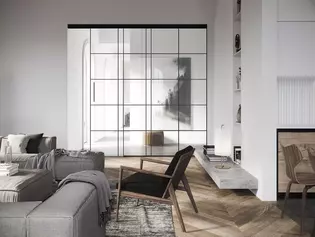 The most frequently asked questions about Industrial Style
What are the most frequently asked questions about Industrial Style? We found out using software that analyzes which questions people ask voice assistants from Apple, Google and co. We answer three of them here:
What belongs to the Industrial Style?
The Industrial Style: open living concept with elementary furniture pieces. Large loft apartments with high ceilings and different living areas in one room.
What materials go with the industrial style?
Used-look materials: metal with rust and wooden elements with furrows emphasize the charm of rustic furnishings.
What doors go with industrial style?
Sliding doors are perfect room dividers in industrial style. Modern glass doors with clean lines perfectly fit the industrial style of living.