Living like in a loft
Large windows, high ceilings, authentic building materials and lots of, lots of space - that's what makes living in the loft style so attractive. What started out as an inexpensive alternative has long since advanced to the luxury class of living. After all, the stock of suitable factory buildings is limited and each building is absolutely unique. In order to bring the flair of loft living home, you don't necessarily have to renovate a factory building. Appropriate accents can be set with stylish building elements. Fittings and doors are central design elements.
---
Loft-style sliding door systems
PLANEO LOFT and PLANEO AIR by GRIFFWERK are predestined for loft-style living. They look particularly stylish in black.
Planeo Air
A slim, fine aluminium frame surrounds the glass surface of the PLANEO AIR system. It not only looks good, but also serves as a functional edge protection. PLANEO AIR has received several design awards and is available in single and double-leaf versions and in special sizes.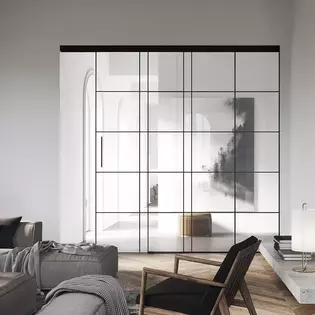 Planeo Loft
In PLANEO LOFT, fine aluminium pilaster strips lie on top of the glass surface and can be arranged into individual grids. Incidentally, we were inspired by the Bauhaus façade windows for this design. PLANEO LOFT is available in single and double-leaf versions and in special sizes.
---
PLANEO AIR - HONORED WITH THE RED DOT AWARD 2017
The high design quality of the sliding door system Planeo Air was recognized with the prestigious Red Dot Award in 2017.
Glass door system PLANEO AIR was designed by GRIFFWERK in the Blaustein design department. A filigree frame profile of only 6 mm width outlines the glass surface of the glass door system. The matte black surface "graphite black" stands in exciting contrast to the radiant white glass surface in white glass PURE WHITE by GRIFFWERK. In addition to its aesthetic value, the profile provides additional protection for the glass edge. The minimalist handle strip, also black, radiates lightness - nothing more than a fine, graphic line fulfills all functions. The concealed track of the sliding door system holds technical comfort, for example, a soft closing mechanism.
PLANEO AIR - GERMAN DESIGN AWARD WINNER
In 2019 followed the nomination and award of the glass door system PLANEO AIR with the German Design Award 2019.
The German Design Award is conferred by the German Design Council, which has been representing the design scene in Germany for more than 65 years and confers one of the most prestigious awards for high design quality with the German Design Award.
With this award, the German Design Council honors "innovative products, their manufacturers and designers that are groundbreaking in the German and international design landscape," according to the organizers.
The nomination for the German Design Award alone may be understood as a special distinction, as the German Design Council reserves the right to select the companies and products itself.
The international jury justifies the decision to honor PLANEO AIR with the award as follows: "The filigree frame profile keeps the white glass panel almost invisible, making it seem almost immaterial. In addition, it glides in its concealed track almost as if by itself, which reinforces the impression of lightness and floating. A great, poetic design."
---
Modern lightness
PLANEO SYSTEMS appear more filigree than classic steel and glass doors. It is a new era of loft door systems. The new loft style blends harmoniously into any room setting. It sets accents without overloading.
New generation loft doors
A classic loft door is understood to be a heavy steel and glass construction that is closely based on historical predecessors. GRIFFWERK has reinterpreted the loft door. It now not only looks more modern, but also has many other advantages:
Loft door systems in comparison
PLANEO system by GRIFFWERK
System construction, special dimensions possible
Can be ordered with other doors from specialist dealers
Frame made of lightweight aluminium
Hardly any additional weight
Modern, light appearance due to frame
Conventional steel-glass systems
Expensive individual production
Production via locksmiths
Long production and delivery times
Frame made of welded steel
High weight, therefore problems
Massive, dominant appearance
Matching handle strips
Handle bars of the PLANEO system look like modernist sculptures and are the perfect complement to loft and industrial style. Very characteristic: the formal reference to semi-finished products such as round profiles. They are typical of the beginning of industrialisation and bring with them their own aesthetic. Find out more about the PLANEO handle bars here.
All in one look
GRIFFWERK offers complete product families from window handles to door handles for wooden doors and glass door fittings. So everything is coordinated in terms of technology, design and surface.
Easy ordering and assembly
PLANEO SYSTEMS are available from specialist door dealers. As a builder, you have the same contact person for the purchase and installation as for all other doors. This simplifies construction planning. The installation is comparable to a simple sliding door installation. Thanks to clamping and gluing technology, glass doors do not have to be drilled.
Find your local specialist dealer now and get advice:
---
Loft style door handles
Antique, historic iron fittings were the inspiration for these door handles. The surfaces are in graphite-like, matt black. We call this extraordinary shade of black GRAPHITE BLACK. The surface is applied in a complex process. Three layers are necessary.
---
Configure individually
GRIFFWERK offers many design variants in different surfaces. This means that shapes and surfaces can be tried out and put together individually.
soft2touch
Door handles in the premium surface soft2touch by GRIFFWERK are real hand-flatterers and available in three colours: cashmere grey, graphite black and velvet grey. They form a beautiful contrast to the rough look of concrete floors and coarsely woven fabrics in the industrial style of a loft flat.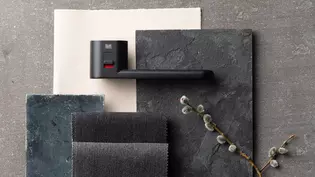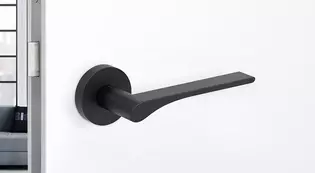 Matt is more beautiful
Not all black is the same. We opted for an exceptionally matt, very deep black that goes perfectly with window and door elements in a loft character. Our designers say that gloss on black surfaces looks too unsettled because the contrast with the surrounding black is too strong. They are right. Matt simply looks more noble.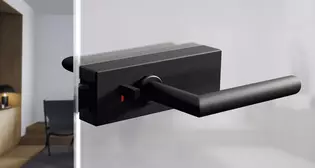 Also for glass doors
Are you looking for suitable fittings for revolving glass doors? No problem. You can also combine your favourite handle with a lock case for glass doors. Naturally, the surfaces have been matched to each other. PURISTO S lock case offers additional convenience: we have positioned the locking function within thumb's reach.
All in one look
GRIFFWERK offers complete product families from window handles to door handles for wooden doors and glass door fittings. So everything is coordinated in terms of technology, design and surface.
Find your local specialist dealer now and get advice:
---
Loft style window handles
A loft without the typical windows is not really a loft at all? We think so too. Our window handles in matt graphite black fit perfectly. But beware: these door handles only look like their cast-iron predecessors at first glance. They contain sophisticated hardware technology and the design language is also deliberately kept very modern. The surface offers a special experience. Thanks to the premium coating SOFT2TOUCH by GRIFFWERK, it is particularly soft. What looks like pure industrial style turns out to be, at second glance, a luxury for the hands that you can enjoy every day.
All in one look
GRIFFWERK offers complete product families from window handles to door handles for wooden doors and glass door fittings. So everything is coordinated in terms of technology, design and surface.
Find your local specialist dealer now and get advice:
---
The Loft Apartment
What is a loft?
By definition, a loft is a space previously used for industrial purposes that has been converted into a flat or studio. The term "loft" comes from English and stands for "storage" or "attic". Classically, empty warehouses, workrooms or factory floors were used as lofts.
The history of the loft flat
The first loft flats were built in London and New York in the 1940s. They were initially created out of necessity. People wanted to create inexpensive living space quickly. Loft flats usually comprised a complete floor of a former industrial building. The floor areas were more than generously proportioned. There were practically no partition walls. Loft flats can therefore be considered the forerunner of today's trend towards open floor plans. The building fabric was hardly changed. Simple concrete floors with traces of use, surface-mounted pipes, steel columns, large mullioned windows and cast-iron sliding doors remained as postulates of the original use. They gave the rooms their charm and are still considered typical of the loft style today.
In Germany, the first loft flats appeared from the 1980s onwards. They established an alternative, non-conformist style of housing that continued to gain popularity in the 90s as the loft movement. The most important cities for this phenomenon initially included Frankfurt and the entire Ruhr area, later above all Leipzig and also Berlin. Not only were there corresponding old properties there, there was also a large scene of creative people, artists and freelancers who advocated an eccentric style of living and, despite immense sacrifices in terms of living quality, preferred it to the classic apartment building. In addition, a loft flat allowed the spatial combination of working and living space.
The most famous loft
One of the most famous lofts is probably the "Factories" of the pop artist Andy Warhol. In fact, there were several of these studios. Although the first ones were located in former factory buildings, the name not only referred to the type of building. Rather, the studio was understood as a kind of production site for modern art. Warhol's serial art was based on industrial production principles. Similar to the production of industrial products, he created series, repetitions and variations of the same motif in series.
Historical examples
When we think of classic factory buildings today, we imagine brick walls and curtained glass façades. One of the best known and first representatives of this architectural style is the Fagus factory in Alfeld, built in 1911. It was built by Walter Gropius. It has been a listed building since 1946. UNESCO declared it a World Heritage Site.
---
Statement of a (new) way of life
From the 1980s onwards, a structural change in society became apparent in Germany. The model of the nuclear family as an idealised form of life lost relevance. Individualisation, pluralisation, the dissolution of social classes and the abandonment of traditional gender roles led to completely new ideas about personal life. Demands on living and living spaces changed. The small house on the outskirts of town no longer corresponded to the image of the perfect home. Leisure activities, professional self-realisation, quality of experience and consumption were in the foreground. Until the beginning of the 1990s, married couples with children formed the majority of all households. Only 10 years later, the share of one- and two-person households was more than 60%. *) People were interested in new options. Flats no longer had to offer one parents' room and several children's rooms. Open floor plans without constricting partitions corresponded to this new thinking.
*) Source: Michael Andritzky, "Balance zwischen Heim und Welt Wohnweisen und Lebensstile von 1945 bis heute" from "Geschichte des Wohnens. Volume 5. 1945 to today", 1995, Deutsche Verlags-Anstalt in cooperation with the Wüstenrot Foundation, Stuttgart.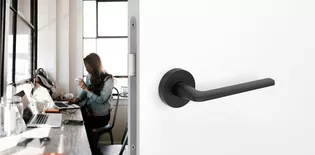 Life without (spatial) boundaries
With the loft flat, the clear spatial separation into different functional rooms that structured previous floor plans is lost. There is no longer a place to just sleep, another to just cook and yet another to just eat. Everything takes place in the same, interwoven living space.
Even the workplace is no longer separated. This creates a flowing rhythm of life that is guided by impulses. Spontaneity and creativity replace a strict temporal and spatial corset.
On the way to luxury real estate
Suitable commercial properties appropriate for loft flats are scarce. The prices for loft flats have therefore risen. Converting the buildings is often more cost-intensive than building a new one, because no one wants to do without comfort any more. Instead of factory buildings, office buildings from the 1960s and 1970s are now being used.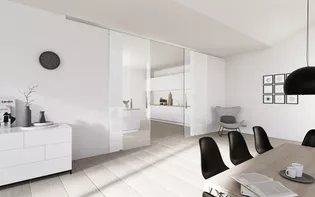 ---
Loft flats - The 9 best styles
1 Unconventional and spontaneous
A loft flat for non-conformists. You are welcome to park your bike in the living space. Creative ideas are the order of the day. A Euro pallet becomes a bookcase. Quickly done and well solved is the motto. Everything is simple and has something temporary about it. Life pulsates. The residents of this loft flat are right in the middle of it. They invest in the next adventure trip, free of rules and conventions. (Door handle: LEAF LIGHT)
2 With a start-up atmosphere
Life's dreams need space to be realised. In this loft flat, everything is possible: workspaces, showrooms, pop-up stores or vernissages. The loft offers enough space. It can grow with you, change, adapt to all developments and offer a representative setting for all projects. The workplace and all the necessary utensils form the visual centre of the room. Breakfast can also be taken at the work table. After all, the next idea has to be implemented quickly. (Door handle: REMOTE)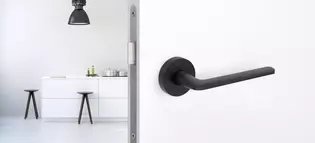 3 The minimal loft: nothing but space
Loft character can also be minimalist. Elegance and lightness replace the original rawness in this loft flat. Restraint is the order of the day. In the visual silence, the view is allowed to come to rest. Only a few objects in the industrial style recall the history of the building. The spatial effect relies on the most essential features of the architecture: proportions, cut, window shapes, all this is consciously perceived by the viewer. Details do not distract from this. (Door handle: LEAF LIGHT)
4 Eccentric and Luxurious
In this loft flat you will find selected design objects. Each has its own story and tells of a different era. Everything is skilfully mixed. Herringbone parquet, marble panels or designer lamps are combined. All the furnishing elements have only one thing in common: they are not ordinary. Nor is the building. Its history reaches a new climax with this staging. It has never been so beautiful. (Sliding door system: PLANEO AIR)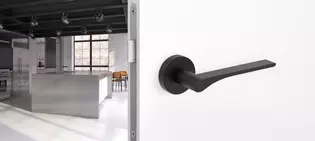 5 Pragmatic and unembellished
The coolness of the place is further emphasised by monumental elements in stainless steel. It is not the floor that is made of concrete. This material may also serve as a work surface. Everything is allowed to retain its signs of use. Ventilation systems and surface-mounted pipes are put on display. A powerful, clear impression of space is created, which wants nothing to do with decorative embellishments. Anything that is not justified by its function has no place. (Door handle: LEAF LIGHT)
6 Scandinavian Loft: Simple and Beautiful
It doesn't necessarily have to be black door handles. KASCHMIRGRAU by GRIFFWERK is a warm shade of grey that gives loft flats what they need: More cosiness. The special feature of this handle is its refined surface. Thanks to the coating with SOFT2TOUCH by GRIFFWERK, the handles feel particularly soft. This flatters the hands. (Door handle: MINIMAL MODERN)
7 Spectacular clarity in the new building
Spacious but unusually cut rooms, different levels, a classy concrete floor and lots of open space: the best of the loft can also be brought into the new building. Black fittings lend even more loft character. Individual accents in the room composition are enough. The entrance to the central room is given a fitting frame by the PLANEO sliding door system. Double-leaf and floor-to-ceiling doors are ideally suited to the unusual proportions. By the way: sliding door systems emphasise the horizontal flow of space, they give rooms width and make large wall surfaces appear even wider. (PLANEO sliding door system)
8 Office floor becomes loft flat
In many commercial buildings, there are former office floors in addition to production halls and warehouses. Characteristic are wide corridors and staircases, as well as old floors made of linoleum or - if you are lucky - also of solid, beautiful parquet. The characteristic dark tobacco tone corresponds wonderfully with dark leather. Door handles in graphite black or cashmere grey match perfectly. The room logic must be adapted to new needs. Glass doors provide better lighting in the centre of the room. (Door handle: FRAME)
9 A maisonette in loft style
A maisonette has a second floor that is accessed via its own staircase. In this respect, a maisonette and a loft have a lot in common. The second floor is often adjacent to an open, high light space. The staircase itself can become a stylistic element. Metal allows for stable and space-saving constructions. open steel staircases are particularly typical. Door handles in graphite black are a must. (Door handle: LEAF LIGHT)
---
Planning rooms
The floor plan of a loft typically consists of only one large room that encompasses various functional areas. We prefer not to build in additional walls so that the architecture of the building is shown to its best advantage. Nevertheless, we consider it advisable to separate bathrooms, toilets and guest rooms. The enthusiasm for limitless living without any possibility of retreat is quickly lost in everyday life.
Maintain character
The more independent and unique the building is, the more cautiously it must be handled. Every change has a great influence on the overall aesthetic impression. Glass as a building material creates transparent room boundaries and visually withdraws. It does not disturb the character of the room and does not block the view.
Observe monument protection
Modernising listed buildings is a great challenge. It is not uncommon for existing doors to be retained. At the same time, an optimised room layout requires the installation of new doors. Doors with neutral shapes can be combined well. Glass doors in particular blend in very well visually. For sliding doors, the building fabric hardly needs to be changed. Even later dismantling would be possible almost without leaving any residue.
Creating zones
To give the large room structure, zones must be created. These can also be created without walls by furnishing. Room dividers such as shelves are very practical and can be moved as needed. Carpets give furniture groups a centre. The lighting is very important. The central room should by no means be uniformly lit. Create islands of light and stage each zone like a stage in itself.
Rooms in the room
Sometimes new walls simply have to be planned in. It is particularly exciting to plan autonomous structures into the large space. They appear independent and formally separated from the original building fabric. Structures that have been inserted can be free-standing or can also be connected to a wall. Single- or multi-storey variants are possible. They conceal installation units or house the bathroom, a bedroom or a chamber. The generous overall impression of the loft is retained. The added structure can take on a sculptural quality of its own.
New floor levels
A former factory hall can sometimes boast impressive ceiling heights. Five metres and more are not uncommon. It makes sense to add a second storey in some areas. Rooms of more usual dimensions can then be planned into the storeys. That makes sense. After all, the high ceilings draw heat away. So it can be quite uncomfortable in a bedroom with a ceiling height of five metres.
Observe proportions
Large flats need large doors. These can then also be room-high. XL doors correspond better with the extraordinary dimensions of a loft flat. If you decide on glass doors, we recommend VSG doors. Wooden doors with a flush look take a back seat visually. Of course, the handle must also match the XL door. We recommend: FRAME and handles from the ONE design line.
Connecting rooms
Often, the wishes of the clients require a new division of functions. Spatial relationships have to be redefined. New room transitions are necessary. Sliding door systems are available in a wide range of formats. With them, almost any installation situation can be mastered. Frames do not even have to be installed.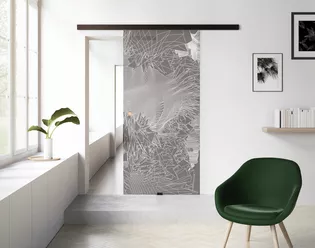 Different floor heights?
Sliding doors do not require a swing area into the room. Therefore, they can also be used on steps.
Everything is possible in existing buildings. Especially evolved building structures that are changed over time can present unusual challenges.
---
Planning light in a loft
Natural daylight not only makes rooms more homely, it is also a natural resource and therefore helps to save costs. High window fronts usually provide loft flats with sufficient light. Unfortunately, this is not always the case. After all, for industrial use, plain neon light was enough. So when planning the building, attention was not necessarily paid to sufficient daylight.
Illuminate the centre of the room
The weak point in the lighting concept of a loft flat is the centre of the room. Natural light enters through the façade windows, but unfortunately the centre of the room often remains in darkness. Those who can, treat themselves to skylights. Otherwise, it is important to make the best possible use of natural daylight. Glass doors as light-open room boundaries are ideal.
---
More homely with white glass
Concrete reflects grey light. For this reason alone, rooms with concrete floors or walls appear somewhat cool. Therefore, be careful when using green glass. It colours the incident light greenish. We recommend white glass PURE WHITE by GRIFFWERK. It is colour-neutral and available as ESG and VSG. Another tip: Frosted glass looks even cosier than clear glass. Most of our glass doors are available with a frosted back on request.