Undisturbed open living: locking systems for sliding doors
Even small rooms and niches can be easily and space-savingly separated from the rest of the room with sliding doors. You can even lock wooden or glass sliding doors: There are different locking systems for sliding doors - we present them.
Lockable on both sides: sliding door lock with circular bolt
Sliding doors run parallel to the wall - therefore the bolt cannot engage in the striking plate of a frame and lock the door. Sliding doors can therefore be locked with a hook or circular bolt lock, for which a stop post is required.
Classic locks with a straight bolt do not lock sliding doors - they could simply be pushed open again. Solution: Special locks for sliding doors with a compass and hook bolt. When the key is turned, the curved compass reaches behind the keyhole punching and locks the door. Special feature: Due to the curved shape, the bolt moves downwards in a circle.
Circular and hook bolt locks are available as a set with matching striking plate. With mortise lock, with rotary knob, square, oval or round door rosettes - in white, grey, black or silver: there are numerous door lock variants also for sliding doors.
Lockable on one side: Lockable sliding doors for WC and bathroom
Sliding door locks that can be locked on one side are typical for sliding WC and bathroom doors. The rotary handle for locking is attached to the inside of the room. The sliding door is locked when the WC lock is turned. For emergencies: On the outside of the door is an unlocking handle that also opens the door from the other side if necessary.
Modern and fast locking: sliding doors with touch sensor
The PLANEO SMART2LOCK system is not visible from the outside and is integrated into the handle bar and sliding system of the sliding door. The sliding door locks or opens without the need for a key. Thanks to a touch sensor with infrared light, the sliding door can be conveniently unlocked and opened with a light touch of the finger. When the sliding door is locked, a small red light illuminates. Elegant and minimalist: with the PLANEO GS_49017 handle bar model, sliding glass doors can be quickly locked with just one touch.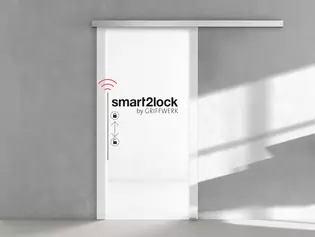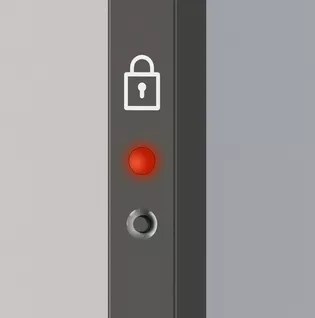 Kitchen, bathroom or WC locking: Thanks to the large selection of door sets from GRIFFWERK, you will find the right design variant for every door leaf and the respective door width. Lockable handle bars and door handles can also be used on the left thanks to the symmetrical design.