Loft look thanks to pilaster strips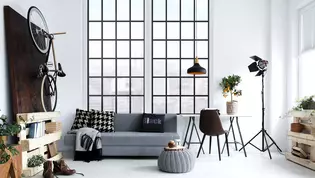 The allure of a loft apartment inspires many of us. Once born out of necessity, loft living is now a privilege for those who can afford it. But even without a lavish budget, you can easily give your home a loft feel with the use of pilaster strips!
Sliding door: pilaster strips create loft look
Normally, a real loft door is made of solid glass and Steel. But who says you have to give up the loft effect when you want to beautify your home? This is where the pilaster strip comes into play: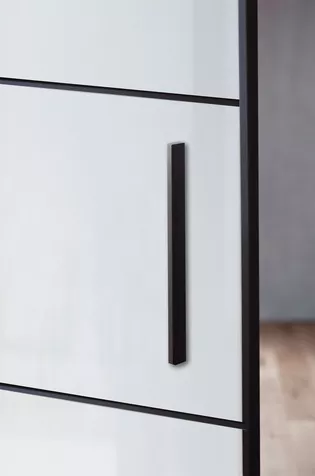 Pilaster strips for doors are narrow decorations that can be placed on the smooth finish of a door. They can be positioned both vertically and horizontally, either resting on the door or recessed into the material. Black muntins add visual texture to a door, giving it a special touch. Depending on the type, material and placement of the LISENs, a unique atmosphere is created.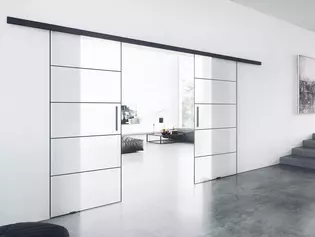 For the authentic loft ambience, we recommend the use of Black LISENS on large sliding doors with clear glass. These LISEN immediately catch the eye and give the door the typical "factory window look". This turns the Sliding door from a simple room divider into an integral part of your interior design.
The evolution of the loft Sliding door
At GRIFFWERK, we have been inspired by the evolution of the pilaster door in Bauhaus façade windows. Our Glass sliding door PLANEO LOFT is a modern interpretation of the loft door. Instead of a solid steel construction, we rely on a filigree grid look made of Black Aluminium, which gives your interior the perfect loft look. PLANEO LOFT is characterized by surface-mounted LISENS that are only 0.8mm thick. These LISEN are simply mounted on the large all-glass door, ensuring stability and light weight.
Our reinterpretation of the loft door is available in a variety of sizes, including ceiling-high versions for the ultimate XXL loft experience. The lightweight aluminum frames are reminiscent of factory window frames, providing protection to the edges and adding hardly any weight. Thanks to the narrow dimensions of the frame and LISEN, the result is a particularly light and modern look. In this way we have reinterpreted the flair of the old, massive factory and Bauhaus windows. Due to their system construction, PLANEO LOFT pilaster doors are easy to install and uncomplicated to maintain.
Our sliding door hardware, such as the PLANEO AIR and PLANEO LOFT, embrace the distinctive look of loft styles while conveying a more minimalist and understated message.
You have the choice of wall or ceiling installation, and a fixed side panel is also available to add a personal touch to your loft-style home. Let your creativity run wild and design your loft the way you want!