7 Sliding Door Trends
Sliding doors are a simple and beautiful solution for both very small rooms and large rooms that need to be divided when necessary. Learn all about popular interior design trends with sliding doors here.
Sliding doors made of any material divide and create spaces. Sliding doors made of glass also provide light, warmth and a sense of well-being. In the past, large sliding doors were mainly used for terrace exits or public buildings, but today they are conquering entire flats as room dividers and interior doors.
Trend 1: Finally making use of small spaces
In small rooms, a conventional revolving door can take up a lot of space when it is opened or obstruct space if it is left open. This is particularly unfavourable in a winding or narrow flat. Here, a sliding door offers a particularly practical solution: a small home office, a guest WC or a walk-in closet become visually larger when the space normally taken up by the revolving door remains free. This looks good and makes it easier to enter the small room. For small rooms that have a shelf or cupboard near the door, such as a pantry, storage room or dressing room, a sliding door ensures that the clothes or supplies on the shelf are easily accessible.
The trend of recessing the sliding door into the wall is particularly elegant.
Trend 2: Room dividers
Sliding doors are not only ideal for very small rooms, but also for temporarily dividing large rooms. Spacious, bright rooms with lots of light are good for well-being. But sometimes you need rather smaller units, especially in times of more and more home offices. Drawing a wall into a large room makes the whole flat dark and is not flexible. The solution: sliding glass doors as room dividers. With a multi-leaf sliding glass door, such as the PLANEO AIR, you can find individual, flexible solutions for your rooms: an alcove becomes an office or an open kitchen becomes a classic kitchen while you cook.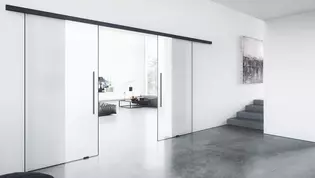 Tightly closing sliding glass doors such as PLANEO AIR SILENT with glass in PURE WHITE quality maintain the illusion of the open kitchen, but do not let any odours through. A sliding door system is also well suited for concentration: While life is raging in one half of the room, piano lessons can take place or work can be done in peace in the other half: The PLANEO AIR SILENT glass sliding door system from Griffwerk offers similar sound insulation as classic wooden doors. Afterwards, you can simply open the sliding door and once again enjoy a spacious room with lots of light.
Trend 3: Walk-in wardrobes
Not everyone has a walk-in wardrobe. One of the most popular wardrobe systems is the wall unit in the bedroom. It usually goes across the entire width of the wall and very often part of the wardrobe is behind the door to the room. If both the room and the wardrobe have revolving doors, there is a collision. However, storage space is only practical if it is also easily accessible. Sliding wardrobe doors solve this problem. Even in small bedrooms, this allows you to open the wardrobe wide and reach the contents easily without the doors bumping into the room door, bed or other furniture. All passages remain free. Ideally, the bedroom door is also a sliding door in this constellation.
Trend 4: Visually enlarge small rooms
Compared to normal doors and also sliding doors made of wood, sliding glass doors have the advantage that they also visually enlarge rooms. Narrow, winding flats can be flooded with light thanks to sliding glass doors, giving them a warm and spacious character. When privacy is required, satin glass sliding doors are advantageous. They let in a lot of light, but no glances.
Trend 5: Fittings in black
Sliding doors are practical. But they are also beautiful. More and more often they are installed for aesthetic reasons. Then you want the door to be perceived as a decorative element in the room. Door fittings made of stainless steel in Griffwerk graphite black are particularly strong in character. On the one hand, these fittings look high-quality and elegant, and on the other hand, they offer a pleasantly soft feel to make you feel good. Sliding door fittings in Griffwerk graphite black are available as a surrounding frame or as simple rails. The door handles are available as elegant handle shells, modern handle strips or classic handle bars.
Trend 6: Slide track systems
Simply put, sliding doors consist of one or more door leaves that hang on a guide rail. In addition, there are locks and handles, as well as a guide rail on the floor if necessary. The guide rail or fitting may be visibly attached to the wall. The door is then located in front of the door frame and slides in front of the wall when opened. In this version, the door fitting acts as an important design element.
Sliding doors that disappear into the wall when opened are particularly practical. However, this system is only feasible with double-skin drywalls with a cavity. The door is then mounted in the door frame and slid into the cavity when opened.
Trend 7: Modern design for your sliding glass door
Partially frosted glass doors are a particularly beautiful decorative element. Photo prints are also possible. You can give your favourite design or a room its individual character with your own motif. A photo print or matt design is particularly suitable for a walk-in wardrobe. This way, the wardrobe contents are perfectly hidden and the glass door functions as decoration.
At Griffwerk you will find an enormous variety of sliding glass door panels. Whether playful or minimalist, transparent clear glass or frosted glass for privacy - they all turn a conventional flat into a trendy spatial wonder with lots of light and warmth. This increases the quality of living and the sense of well-being.
At Griffwerk you will find glass doors with modern 3D effects, minimalist line designs or nature motifs.
We have developed our own technology for photo motifs: On request, we can laser your photo or favourite motif onto your new glass door.