The door hinge multiplication table
Door hinges are small, inconspicuous and hardly noticed - yet they play an important role in the correct opening and closing of doors. What exactly door hinges are, how they work and what types there are: We explain here.
What are door hinges?
On the one hand, they connect the door to the frame. On the other hand, they help to move the door smoothly.
Door hinges are usually quite small and are mostly made of steel. They carry many times their own weight - namely the door leaves. Door hinges are used for wooden, steel, glass and plastic doors.
---
How do door hinges work?
Door hinges serve as a link between the door and the frame. They are responsible for ensuring that the door remains movable and functional for a long time. Door hinges are the linchpin of every door. Two door hinges are used per door as standard.
They basically consist of two elements, but can also consist of more than two parts:
Upper hinge part: The upper hinge part is attached to the door leaf. There it is drilled, milled and finally screwed in place.
Hinge bottom part: The hinge bottom part is mounted on the frame, i.e. it is drilled, milled and screwed in. If the hinge is a hinge pocket element, the hinge bottom part is screwed into the frame together with the hinge pocket.
---
How do door hinges differ from hinges?
Colloquially, the door hinge is also called a door hinge. However, door hinges consist of several individual parts, whereas one speaks of a hinge when it consists of only one part - i.e. it cannot be disassembled.
Door hinges are usually made of two or three parts and are assembled together. In contrast to a hinge, a door with hinges can be unhinged without having to dismantle the hinges first.
---
Different types of door hinges
Door hinges must meet different requirements depending on the door's area of application. In general, however, they must be robust, as they bear the full weight of the door every day.
For passageways with high public traffic, the door hinges must meet certain safety requirements. In highly frequented public buildings, e.g. hospitals or leisure facilities, special fire and smoke protection door hinges are therefore used.
In private homes, on the other hand, doors made of glass, wood or plastic are usually used. Door hinges made of aluminium, die-cast, stainless steel or steel can be used here. The right door hinge should also be matched to the frame.
The following types of door hinges are distinguished:
2-part hinges
3-part hinges
Tectus hinges
Roller hinges
3D hinges
Attachment hinges
2-piece door hinges
This type is found as standard in many interior doors.
The hinge consists of two parts: Upper hinge part and lower hinge part. The former is screwed to the door with only one thread. The bottom part of the hinge, on the other hand, is attached to the frame with two screw threads.
3-part door hinges
For more heavily used doors, e.g. for children's rooms, 3-part hinges are worthwhile. Oversized doors, doors made of heavy real wood and house entrance doors also need 3-part door hinges. This variant consists of three parts, whereby the upper and lower parts are each screwed to the door with a thread. The middle part has two screw threads and is mounted on the frame. The parts are connected to each other by a pin. With the help of this device, doors can be easily inserted.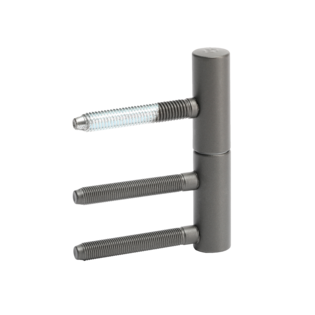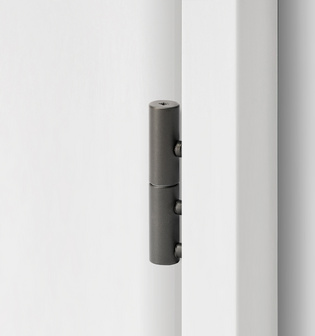 By the way: The holes on the frame for the screw thread are in the same place for 2-piece and 3-piece hinges. This means you can easily change a door from 2- to 3-part hinges and vice versa - without having to replace the entire frame.
Tectus hinges
So-called Tectus hinges are used when it comes to butt-hinged doors or doors with a butt look.
Roller belts
Roller hinges are almost concealed and invisible and score points with their elegant appearance. When the door is closed, only the castors are visible. This makes roller hinges look particularly modern and robust at the same time. These hinges are therefore also suitable for heavy doors, e.g. house and flat entrance doors. At the same time, they provide increased protection against burglary and are easy to install.
3D hinges
3-hinge or three-dimensionally adjustable hinges are very well adjustable door hinges. With the help of the small screws, the door leaf can be precisely adjusted in terms of height, side and pressure. This enables infinitely variable adjustment - without the door leaf having to be lifted out.
3D hinges are used particularly frequently in entrance doors, as they ensure optimum closure of the door. Further advantages: They contribute to sound insulation, thermal insulation and burglary protection, among other things.
Attachment hinges
A distinction is also made between top hinges. Whether made of aluminium or plastic - they are particularly suitable for front doors. They are available in 2-part and 3-part versions. They can be flexibly adjusted and are screwed into place. Although top hinges require less maintenance, the adjustment of the sash should be checked regularly so that the hinges are not subjected to unnecessary stress.
---
What is a band bag?
If the hinge bottom part is not fixed directly in the frame, the hinge pocket comes to the rescue and holds the hinge bottom part including its two screw threads. This is often the case, for example, with block frames or steel frames. The bottom part of the hinge is then fastened with a clamping shoe and clamping screws and screwed into the frame as a unit with the hinge pocket. For this reason, a door with a hinge pocket is also referred to as "reinforced hinges".
---
Where can I buy door hinges?
At GRIFFWERK you will find a wide range of accessories for doors and windows. Whether glass door or wooden door - we also have the matching door hinges. The right glass door fitting is particularly important for all-glass doors. Convince yourself of the GRIFFWERK quality with the PURISTO S glass hinged door fitting set with the matching glass door fitting and glass door hinge - available in matt stainless steel, cashmere grey and graphite black. You will also find matching door handles in the GRIFFWERK range. Our products are available from specialist dealers and selected online shops!