Sliding doors as room dividers
What has long been common practice in large halls and event locations is now also finding its way into more and more living spaces: flexibly designed rooms thanks to sliding doors as room dividers.
Sliding doors create miracles of space in any flat, no matter how winding: sliding doors turn messy niches into elegant and practical cupboard walls, the junk room into a home office and even a small guest toilet gets its place. So far, so familiar.
---
Sliding doors as a room divider
Separating parts of a room with a sliding door not only works wonders for saving space, however, but also in large rooms. For the demands of modern living, there is hardly anything that so harmonises flexibility with functionality and well-being as sliding doors as room dividers - preferably made of glass.
Many flats have a high number of square metres, but not many rooms. Especially in times of home offices and frequent closures of daycare centres and schools, retreats and the ideal organisation of the available space are very important for well-being. A playroom or study room may become necessary, or a home office. If possible, these rooms should be shielded from visual and acoustic influences in such a way that conferences and preparation for classwork can take place undisturbed.
Erecting a wall is an option, but it deprives both rooms of light and space. This clearly reduces the sense of well-being. Moreover, this solution is costly and not flexible.
Room-height sliding doors, on the other hand, are the ideal solution. They can be opened or closed as required and take neither light nor air out of the room. If you want to maintain the illusion of a wide space even when the partition is closed, you are best advised to use a sliding door made of clear glass.
With other materials, you can provide more privacy and create a certain ambience at the same time: For example, a frosted glass sliding door with black aluminium edging immediately brings to mind the chic elegance of Asian pavilions. A sliding door with natural decorative elements, on the other hand, has a playful yet calming effect.
Another possible use of sliding doors as room dividers is to replace an existing conventional revolving door with a sliding door. The effect is amazing: although nothing has changed in the room layout, both rooms appear more as a unit than with a revolving door. The entire living unit appears larger this way.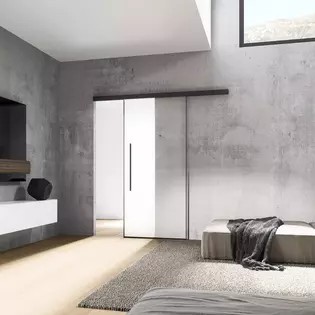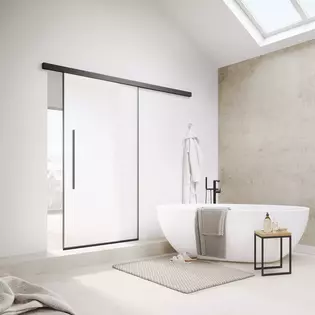 ---
Griffwerk sliding doors for your optimal room division
The sliding glass doors from Griffwerk visually enlarge small rooms and allow large rooms their flood of light and expanse. The PLANEO AIR multi-leaf sliding glass door divides your rooms flexibly and with modern chic.
The tightly closing PLANEO AIR SILENT version ensures quiet when quiet is needed and then lets life back in. The satinised version also offers visual privacy when required and still lets in enough light. Another advantage of the tightly closing room divider: not only noises but also odours are kept out when the door is closed.
Room-dividing clear glass sliding doors in PURE WHITE quality maintain the illusion of large rooms. For those who want to emphasise the lightness of large spaces and light with design elements, Griffwerk offers a wide selection of glass variants from satin to grey glass, floral elements, minimalist lines, 3D designs and much more.
Whether mounted on simple rails or in a surrounding frame, all variants can be combined with elegant handle strips, bars or shells.