Griffwerk Knowledge
As a manufacturer of high-quality Door handles and Door fittings, it is important to us at Griffwerk to offer our customers not only high-quality products, but also comprehensive advice and support in the planning and implementation of construction projects. For this reason, we would like to share our knowledge on the topics of Doors, Door handles and Windows here. These pages contain a comprehensive collection of technical terms and explanations to help you better understand the various components.
Important terms for doors and windows explained
The knowledge base includes many important terms relevant to the design, construction and renovation of doors, windows and other Construction components. For example, some of the most important terms included in our glossary are "Lever handle," "Protective rose," "Sliding door hardware," and "Seal." While these terms are familiar to most customers, our we provide a comprehensive explanation and help provide a deeper understanding of door and window products and solutions. In addition to the basic terms, we also provide information on special topics such as "accessibility" or "burglary protection".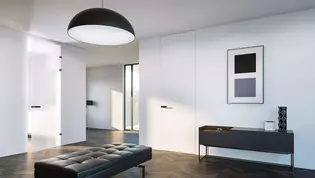 Why you should read our these pages?
Expanding knowledge around doors, Door handles and Windows.
Understanding of basic concepts and technical details
Targeted look-up of terms from A-E, F-S or T-Z
Use of Griffwerk's expertise for your own projects and decisions
Why are Door handles and Door hardware important for your construction project?
High-quality Door handles and Door fittings play a decisive Roll in the planning and implementation of building projects. They are not only functional elements, but also make a significant contribution to the overall appearance of doors and rooms. These high-quality components not only add aesthetic value to your doors, but also stand out for their durability and ergonomic design. Thanks to the use of high-quality materials and precision workmanship, they also offer a high level of reliability and safety. By relying on Griffwerk's expertise, you can be sure that your building projects will be equipped with the best Door handles and Door hardware. Take the time to explore our extensive knowledge of Doors, Door handles and Windows to make informed decisions for your projects while creating an attractive and functional room design.
Up-to-dateness and customer proximity - Our demand on our knowledge pool
To ensure that our site remains up-to-date with the latest developments and trends in the industry, we are constantly updating and expanding it. We also take into account feedback from our customers to ensure that it remains user-friendly and informative for them.