What does a Sliding door system consist of?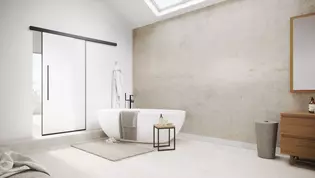 Sliding doors save space and give every home a modern atmosphere. They are versatile, flexible and also make your home more flexible: whether as patio doors, as practical room dividers or as a functional solution for niches and cupboards. But why are they often called "sliding door systems"? Because they can be combined from individual parts that can be matched to each other more individually than almost any other type of door.
What does a "Sliding door system" consist of?
The most important component is, of course, the door leaf. It closes the doorway and gives the room character with its design: modern or traditional, unobtrusive or eye-catching. Sliding door leaves can be made of Wood or Glass. Less frequently, and then mainly in industrial buildings, they are made of Metal. Material combinations are also possible, for example metal frames or pilaster strips for a beautiful loft look or Industrial style.
The door leaf usually hangs on rollers or trolleys . They are usually made of Metal and allow the door to slide smoothly. The rollers, in turn, are attached to the rails along which the door can be moved. The rails are mounted at the top of the wall if the door runs in front of the wall, or in a space between the walls if the door is pushed into the wall. The door often simply hangs on the rails and has None contact with the floor. However, if you value tightly closing Sliding doors through which neither noise nor odors can escape, a rail must also be fitted on the Floor. Even if the door is not intended to close tightly, an additional floor track gives the door leaf more stability and security.
Our "Silent" Sliding door system uses special Rollers and guide elements that minimize vibrations and thus ensure that the door glides very quietly.
To move the door leaf along the Running tracks, Sliding doors have special handles instead of classic Door handles: Bar handles or handle shells. Both are important design elements, as their form can give the room a soft or straight-lined character. Their color determines whether, for example, a Glass sliding door should leave the main role to other elements such as Furniture or walls, or whether the door should be an eye-catcher. Bar handles are easier to operate than the rather small recessed handles and are therefore more suitable for homes where children or senior citizens live.
Sliding door handles always include the locking mechanisms. These can be manually or automatically lockable. A particularly modern automatic locking mechanism is our Smart2Lock system. It uses sensors to detect whether the door is closed correctly before it is locked.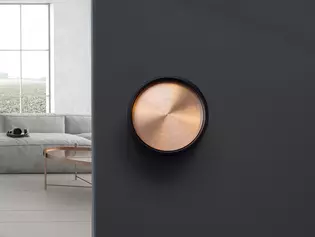 Many Sliding doors have seals to protect against draughts, dust, noise and odors. The PLANEO AIR SILENT system, for example, closes seamlessly against the wall with rubber lips on the sides. It thus combines the advantages of Sliding doors with those of Hinged doors. The special feature: an elegant aluminum frame in Cashmere grey, Graphite black or stainless steel look hides the sealing system and makes it almost invisible.
Whether you need a complete Sliding door system or just one component, or if you have any questions about Purchasing and installation, our sliding door experts will be happy to advise you.
---