Door Trends 2023 - Door, change!
Which door types and designs will be particularly popular next year? Griffwerk has taken a close look at the latest door trends for you.
Haustüren-Trends
First eye-catcher: Front doors are one of the first things you see before entering a house or flat. That's why they are so important to many owners - and rightly so. Current trends:
Smart doors
Metal & Glass
Grey, white or black
Smart high-tech front doors
Due to the technical possibilities, smart homes have become increasingly popular over the last few years. Front doors, windows and more can be opened, locked or controlled via smartphone. At the touch of a button, but also via facial recognition or using a stored fingerprint.
Front door material
High-quality doors made of robust materials such as metal, aluminium or wood are more in demand than ever. Sustainable materials are just as important as the energy efficiency of the door. Good insulation of the door is therefore also important. Increasingly popular: glass elements in front doors - for more light in the hallway or hallway.
Front door colours and shapes
Currently predominant: Simple and modern design with clear lines and unagitated colours such as grey, white or timeless black. Surface look: Matt or lacquer is the most popular. For those who like things a little more colourful, restrained colours are very popular: mint green or pastel colours. Fully on trend: Regardless of the design, solid and wider-than-average entrance doors, as is the case with pivot doors, are very popular: extravagant and wide doors, in a modern design.
Everything in hand - trendy front door handles
Front door handle: Of course, the choice of door handle also plays a decisive role in front door design. Here, too, people like to use elements in a modern design. Door handles adapt to the overall size of the front door. A long handle bar on the door leaf is particularly popular for wide and imposing front doors. Some manufacturers offer door bars made of the same material as the door leaf.
Internal door trends
In contrast to the front door, the interior can also be a little more colourful. Swing doors in strong colours set accents. Example: door and frame in petrol blue look gaudy yet classy. Pivot doors in the interior are also in vogue. A pivot door is a wide door with a swing area and is suitable for large rooms. Some pivot doors also serve as shelves.
Internal door material
Wood, metal or glass: the choice of materials for interior doors is diverse. Depending on the furnishing style, the interior design also influences the choice of the appropriate interior door. For the country house style, a wooden door in white or without colour and natural is suitable. The most harmonious overall appearance of a loft flat is achieved with a glass door - with a black handle.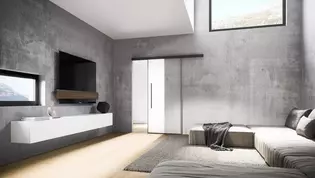 Inner door handles
Door fittings: Whether metal, plastic or aluminium - door handles are made of different materials. Rather minimalist: Sliding doors or wide pivot doors as room dividers in interiors are fitted with door bars or recessed handles that have clear lines or shapes. Round or angular recessed handles are also conceivable. Top trend: door fittings in black.