Modern Country: Country House "light"
How modern country differs from country house style, what distinguishes this style and which Griffwerk products are ideal for it? Find out in this guide.
What is the Modern Country interior style?
Everyone knows the country house style, but it is not to everyone's taste. Modern Country Style is a variation for people who like Rustic Chic, but not the playfulness common in the country house look. Modern Country plays with styles: It's a little like Country House, but plainer; a little like Hygge, but more rustic; a little like Industrial, but warmer; a little like Scandinavian, but more colourful. The new Country Style looks just as good in an old house in the country as it does in a modern city flat.
A Modern Country Style home is cosy, unfussy, simple, bright and warm. Natural colours such as beige, brown, grey and cream predominate, as do natural materials, which may also be unfinished. Stone slabs, linen curtains and sheepskins find their place here just as much as straight furniture made of oiled or even visibly old wood - varnish and paints hardly appear except for white interior doors and windows. Traditional furniture such as milking stools, simple benches and rustic tables are a must-have in this style. They have been rediscovered for Modern Country and given a modern upgrade - a "contemporary revival" of old craftsmanship.
The combination of furniture and walls in natural colours with interior doors in white, carpets (rugs) and sofa cushions (cushions) with geometric décor, pastel-coloured bed linen and colourful table runners bring life into the Modern Country interior design. If green and blue tones predominate, the overall impression goes in the direction of Cool Country Style. If you prefer a more cosy atmosphere, go for wine red, dark yellow or rose tones instead.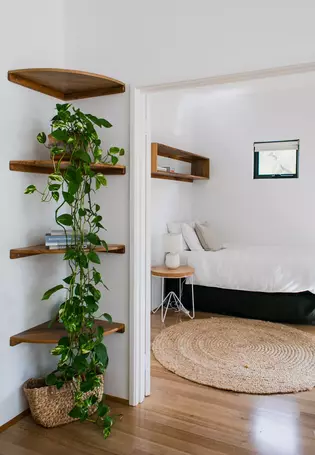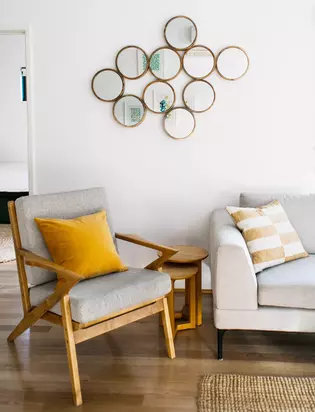 Doors for the Modern Country Style
The matching doors emphasise the Modern Country style. White wooden doors are a good option: they are not very eye-catching and have a calming effect. Room doors made of natural wood underline the effect of the furniture, but only if the overall ensemble does not look cluttered.
Glass doors emphasise the "modern" in Modern Country and also let light flood in, so that the cosy, warm elements in the room are shown off to better advantage. An all-glass door in Pure White quality lets most of the light through, while frosted glass remains rather inconspicuous. Doors with a design also go well with the Modern Country Style - depending on the decor of the carpets, cushions and curtains, it can be a door with a geometric pattern such as those in the GRIDS range or with a more natural design such as BIRDS or NATURE. If you wish, we can also apply your own design to your Griffwerk door.
For front doors or entrance doors, we recommend light-coloured or white doors with glass elements for Modern Country - this accurately recreates the country house ambience.
Door handles and fittings for the Modern Country Style
AVUS – This range combines clean lines with two semi-circles and is therefore the perfect metaphor for "Modern" and "Country". In cashmere grey, Avus makes a chic statement yet remains discreetly in the background.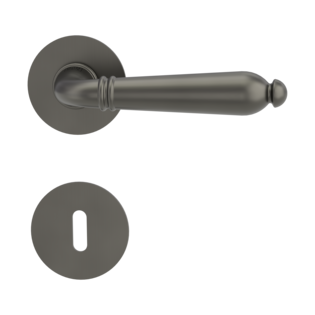 CAROLA PIATTA S in graphite black or cashmere grey is the epitome of a door handle in Modern Country style. Cone-shaped and with decorative applications, this door handle brings a piece of "the good old days" to any room.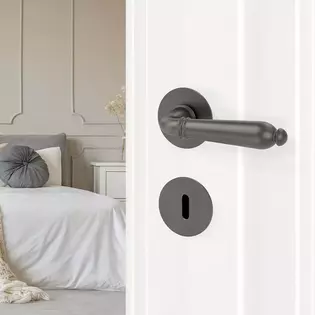 Stainless steel is actually a touch too modern a material for the country house look light - but not when it is the restrained matt version from the LUCIA range. The round handle fits comfortably in the hand and takes the edge off the modern element. If you like it round and even more classic, go for a matt variant from FABIA.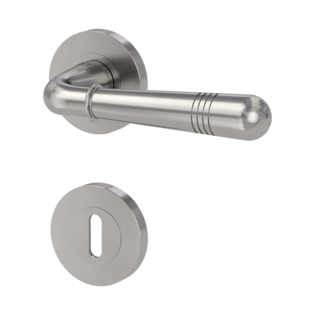 In the shape of the ULMER GRIFF, a circle merges very gradually into an ellipse, giving this door handle a natural-looking shape that is pleasant to hold. The closeness to nature of "Country" and the simplicity of "Modern" harmonise in this door handle and make it the ideal choice for the new, simple Country Look, both in the graphite black variant and in the matt stainless steel version.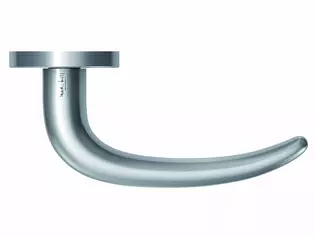 The REMOTE door handle in cashmere grey has a particularly pleasant feel, as it is visually narrow but wide at the top and thus flatters the hand when opening the door. It combines simple elegance with pleasant warmth - just like the new Country Style.
---
The most frequently asked questions about the Modern Country style
Which questions are most often asked about Modern Country Style? We found out using software that analyses which questions people ask voice assistants from Apple, Google and the like. We answer five of them here:
1. What belongs to the Modern Country style?
Traditional and modern combined: The rural furnishing style thrives on traditional elements of a rustic country house style, which results in a harmonious style with modern furniture pieces.
2. Which doors suit the Modern Country style?
Wood or glass: doors in Modern Country style can be rustic or modern. A wooden door emphasises the country look from the natural material. A glass door reinforces the modern design. Hinged doors, sliding doors or saloon doors suit the Modern Country style.
3. Which door handles suit the Modern Country style?
Sliding door or single-action door: Door handles visually match the respective door leaf. In the Modern Country style, door handles are either rustic or modern. A door handle made of plain black with clear lines can fit just as well as a door handle made of brass.
4. Which colours belong to the Modern Country style?
Natural tones and muted colours play a major role in the Modern Country style. Colourful accents are possible, but are not usually too gaudy. Black, white and typical natural shades are typical of the Modern Country style.
5. Which materials suit the Modern Country style?
Natural materials are strongly represented in the Modern Country style. Wooden furniture, cotton, linen, leather, wickerwork, stone, clay or fur are typical elements. To pick up on the rustic part of the country house style, metal or glass are also used.