Frameless - doors without frames
"Door frame" is a word that many hear for the first time only when building a house or renovating. And then wonder where the difference lies with the door frame, and why you need a frame at all. In short, a frame is where the door is anchored and guided in the wall or floor. It is therefore part of the door frame. That a door is attached to a door frame is the normal case, but: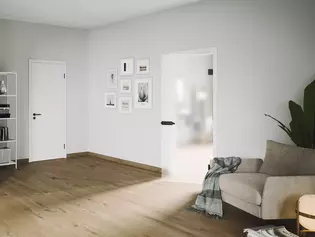 Not all doors need frames
If you like modern and minimalist, you can emphasize this look with frameless doors. Glass doors, which are intended to make a room appear brighter and larger as a simple decorative element, achieve this effect particularly well without frames. But how does it even work, doors without frames?
One option is to simply make the frame invisible. That is, the door is attached to a frame, but not framed by decorative boards. Another option is doors without frames:
Swing doors
A swing door is a door that can be opened in both directions. It swings in both directions and returns to its original position after opening. You can install the hinges for a swing door without a frame directly in the wall or on the door frame. This solution saves space, but works only if the wall is stable enough to support the weight of the door. A particularly modern variant of the frame-less swing door are glass doors in a glass wall. Such doors provide extra light and the illusion of particularly large spaces. They are often used in public buildings with public traffic.
Swinging doors are also ideal for bathrooms, toilets and other interior spaces where there is little space and which require easy access. Swing doors are very often made of glass, feel free to ask our Griffwerk experts about the swing models in our glass door portfolio.
Foldable doors
Folding doors save the most space of all doors, because they do not need a swing area into the room, and also do not require space in or in front of the wall, as a sliding door. They work with a rail on which the door elements hang, some variants have an additional bottom rail. The top rail can be attached directly to the wall and does not require a frame. But: a folding door always looks somehow like a makeshift solution or a camping trailer, never really elegant or modern. So this door variant without a frame is more something for hobby room or allotment, than for a modern living room.
Sliding doors without frames
Sliding doors need a frame only when they disappear into the wall. Sliding doors, even in the variant of floating doors, which run in front of the door opening, do not require frames. Such doors, whether also glass or wooden, hang on a track that you can mount directly on the wall or ceiling. For this reason, the installation is very simple. With sliding glass doors running in front of the opening without a frame, you can not only save space, but also create a particularly bright and modern ambience. At Griffwerk, you will find two frameless sliding door systems in the portfolio:
The open sliding door system R8 hangs on a round tube with visible rollers. This "turning the inside out" is a chic eye-catcher and fits especially well with industrial style, but also with modern living and modern country.