Glass and fittings: The right fitting for every glass door
Today, there is a wide range of modern glass door fittings. Find out here which fitting is best suited for which glass door.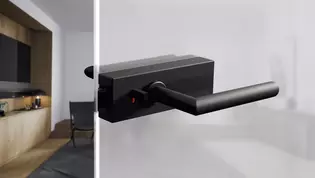 Fittings are the parts of a door, but also of windows or pieces of furniture, which connect the movable part with the immovable part or have to do with its movement: Hinges, handles, knobs, but also locks - which prevent movement. The word "fitting" comes from the fact that these metal elements used to be hammered onto doors, chests, cupboards or windows with nails.
Glass and fittings: Glass fittings for sliding doors
Sliding doors are opened either with handle bars or with handle shells. Handle shells are smaller, more inconspicuous and very intuitive to use. However, a shell handle can also be a chic design element if it is chosen in an eye-catching design, for example our angular shell handle R8 QUATTRO, the PLANEO shell handle in black with brass or copper or the cashmere grey shell handle CIRCLE.
Handle bars are more eye-catching per se and therefore go well with sliding doors where the focus is on closing, such as corridor passages, office doors, cupboard doors or WC doors. Here, the function determines the look and the fitting does not need to be hidden or emphasised.
The Griffwerk SENSA system is particularly ingenious because, like many of our handle bars and handle shells, it does not require any glass drilling thanks to innovative adhesive technology. You can easily mount a SENSA system on any existing glass door.
Glass and fittings: Locks for glass doors
Locks are also part of the hardware and depending on the type of glass door, you will need a different glass door lock. In residential buildings, you don't need locks that are as resistant as in offices or public buildings, simple bunt-bit locks are sufficient for hinged glass doors in flats.
Bathroom and WC locks are mounted inside. Our models have an "occupied" indicator and an emergency opening mechanism on the outside.
You can combine Griffwerk glass door locks with any Griffwerk lever handle to suit your taste and interior style.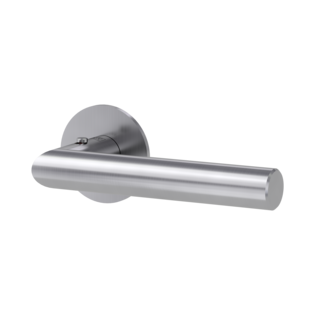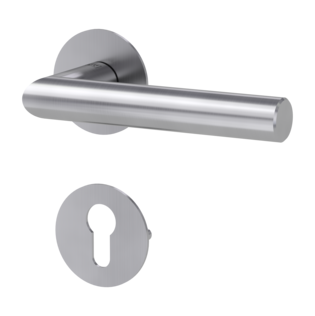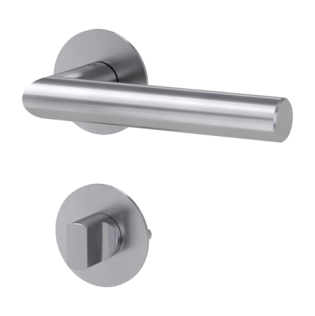 Since sliding glass doors move parallel to the wall, they cannot be locked with a bolt that engages in the frame. That is why there are special locks for sliding doors with a compass and hook bolt. When you turn the key around, the curved compass reaches down behind the punched hole and thus locks the door. There is also a sliding door lock version especially for glass doors for bathrooms and WCs. With this version, the locking compass is not turned by key, but with the locking knob on the inside of the door.
The PLANEO SMART2LOCK system locks sliding doors in a particularly modern and smart way: invisible from the outside, it closes or opens the sliding door without a key, using an infrared touch sensor. The system is elegantly concealed in the handle bar and sliding system and gives every home a particularly modern-minimalist touch.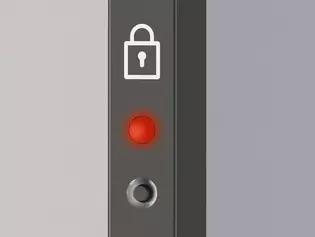 At Griffwerk you will find locks for classic glass doors and sliding glass doors with the latch types "Standard", "Whisper" or "Magnet".
On exterior doors, you need special protective fittings that protect the door, locking cylinder and lever handle from external impact. They consist of a robust exterior shield knob, handle or lever handle on the outside and a door shield with lever handle on the inside. Both are screwed together from the inside and provide perfect protection against burglary - so that burglars cannot get a foothold.
Glass and fittings: Every glass fitting completes the ambience
Clear glass doors provide a view of the room behind them. Satin glass doors are often perceived as a light element. If the surrounding wall is white, they almost merge with it. Such doors are hardly noticeable. The fittings on glass doors are therefore all the more noticeable.
If you want to keep the door as a whole out of sight as much as possible, you are well advised to use narrow handles and rosettes instead of escutcheons. The material that best suits such an unobtrusive look is matt brushed stainless steel. These fittings also suit glass doors with a design, because they do not draw the eye from the design of the door to the handle set. This means that the design can therefore have an optimal effect. This goes well with minimalist style, Bauhaus or Scandinavian furnishings.
If you want to draw attention to the fittings, it is best to opt for handle sets in the Griffwerk creations cashmere grey or graphite black - it doesn't matter whether they are wide or narrow, the colour contrast creates the eye-catcher here. Since coloured locks, plates and handles are particularly eye-catching on a glass door, they have to match the overall look of the furnishings, then they visually enhance the entire room. Graphite black looks particularly good in country houses or flats in industrial style, while cashmere grey goes well with modern country and also hygge. Brass or copper applications underline the colourful ambience of the Ethno Style and also go well with the modern living style, depending on the colour scheme of the walls and accessories.