Sliding door hardware: What you need to know
What is needed for the installation of a sliding door?
Simplified, sliding doors consist of a guide rail and one or more door leaves with pull handles, sometimes supplemented by door closers and locks. Which sliding door fitting is useful and necessary depends on the intended use, the premises and personal preferences: Technical details ensure, for example, that the door closes quietly, saves space, dampens sound or blocks out unpleasant smells.
Sliding door fittings: Which guide rail is worthwhile and when?
Sliding door rails hold the weight and ensure the smooth running of the sliding door. A high-quality model is characterized by durability, as well as easy guidance of the door leaves. The doors should move silently - and, thanks to the "soft close", be firmly locked in place, in other words without opening again or rolling back.
Depending on the room and place of use, manufacturers offer sliding door systems for wall or ceiling mounting. The former option makes sense if you want to replace swing doors with sliding doors and install them over existing door frames. Ceiling mounting is mainly used when you need to separate living areas in a room with sliding doors.
Sliding door hardware for installation in the reveal
Sliding door hardware should integrate seamlessly into the room without stealing the show from furniture. Rails in particular, with runners that glide invisibly in the profile, fit into any living concept. Important: When buying the sliding door hardware, make sure that the door leaf also fits in and that the size is right. For example, some models are only suitable for 1-leaf sliding doors, others for 2-leaf sliding doors. To install sliding doors in the reveal, models are suitable in which the door leaf runs exactly to the end of the track, where it stops gently thanks to soft retraction.
Sliding door fittings: What is the benefit of the soft draw-in?
So that sliding doors close quietly and "as if by themselves", the so-called soft draw-in (also soft-close) ensures. This is a mechanism that combines spring and damping. This mechanism allows drawers or kitchen cabinets to close quietly. In the case of the sliding door, the mechanism prevents it from "banging" when closing, damaging the door leaf. Important: while a soft close for glass doors is usually included in the sliding door system, it makes sense to include it for variants made of wood as well.
Flat sliding door fitting for maximum space gain
Sliding doors are true space wonders. If you want to save even more space and gain room, go for a sliding door fitting with an extra-flat profile, such as the PLANEO 120 fitting system, which can be mounted both on the wall and on the ceiling. Equipped with a position lock, the sliding door fitting prevents the door panels from rolling.
Sliding door hardware for bathroom and kitchen
Suitable for bathrooms and kitchens is a tightly closing sliding door fitting that keeps out kitchen odors, sound and drafts. In sliding door systems from Griffwerk, rubber lips are integrated into a narrow, circumferential aluminum frame for this purpose, which also protects the edges of the door leaf from damage - such as in the PLANEO AIR SILENT.
Which sliding door handles are best suited?
In addition to the guide rail, there is a wide range of handle shells, handle bars and handle strips for sliding doors. In addition to visual preferences, practical aspects play a role in the purchase: For barrier-free living, handle bars and strips are the right choice, as they are easier to grip and stand out more visually from the door leaf than handle shells. To position handle strips or bars flexibly and at the right height, there is the option of attaching sliding door handles without drilling.
Install sliding door hardware without drilling
Fittings that can be fixed to the glass pane using clip or adhesive technology are particularly suitable for simple installation. The advantage is that there is no need to pre-drill the glass pane, and fittings such as handles or trims can be individually adapted to the premises as desired. Thanks to a special adhesive process, handles and other fittings hold just as reliably as screwed variants.
Can sliding doors be locked?
In addition to sound and heat insulation, sliding door systems with locks offer extra privacy. Hook or circle bolt locks that engage in the frame are often used for this purpose. Those who do not want to install an additional lock on the sliding door rely on smart systems such as PLANEO smart2lock. At the push of a button, the door locks via a locking mechanism integrated in the sliding door fitting. Practical: Existing sliding doors can be retrofitted with this locking system, which is located in the handle and the guide rail.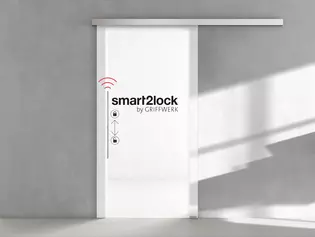 When is a sliding door worthwhile?
Sliding glass doors bring light into the room, create wide lines of sight and open living concepts - for example between the living room and the kitchen: the sliding door supplies the kitchen with daylight from the living room - and although two separate rooms are created, they can be connected into one room whenever you want. Another plus point: sliding doors save space. So when they open, they simply disappear behind the cupboard or chest of drawers. Even previously unused niches are given a new function: as storage and pantry, as a small office or as a walk-in wardrobe. Sliding doors also make barrier-free living possible. Unlike hinged doors, sliding doors do not require door thresholds, nor do you have to plan for an additional swing area.
How to care for and clean hardware for sliding doors?
For the care and cleaning of fittings for sliding doors, especially stainless steel fittings, I recommend the use of a special care spray. An example of such a product is the "GRIFFWERK care spray". This spray has been specially formulated for fittings and cleans intensively, repels dirt and preserves the value of fittings. Avoid aggressive cleaning and scouring agents containing alcohol and clean the fittings immediately after contamination. The aerosol spray is available from Griffwerk's trade partners.